The Dollar: Less Foreign Capital Than Meets The Eye
The U.S. trade deficit hit a record last year, but foreigners invested more than enough in U.S. stocks and bonds to cover the gap. That's why the U.S. dollar didn't tumble. However, those supportive inflows are not as large as believed and are unlikely to last, leading to a probable retreat in the greenback this year.
On Feb. 15, the Treasury International Capital (TIC) report showed that U.S. securities purchased by investors and government agencies overseas minus U.S. purchases of foreign securities was $56.6 billion. In 2005 the total net inflow was $910.7 billion, far more than the trade gap of $725.8 billion.
The Treasury Dept.'s monthly data are increasingly popular as a sign of the ability of the U.S. to meet its external financing obligations, because they come out more often than the quarterly data from the Bureau of Economic Analysis. But the TIC report is not as comprehensive. For example, it excludes flows involving securities with a duration of less than a year. As a result, net inflows were overreported by an average of $20 billion per month through the first three quarters of 2005, say economists Jens Nordvig and David Heacock of Goldman, Sachs & Co. (GS )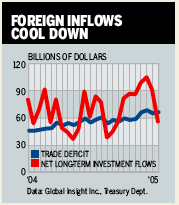 The TIC report is also a little fuzzy on money from private investors vs. official institutions, such as central banks. The Treasury Dept. categorizes inflows based on who makes the transaction. So a central bank move made through a nongovernment third party would be counted as a private transaction.
Given that inflows are smaller than reported and that more of them are controlled by foreign central banks, the risks of a weaker dollar appear to be greater. Stronger economies in Japan and South Korea, pressure on China to let the yuan appreciate further, and the chance of greater diversification of foreign reserves among central banks all point to reduced demand for U.S. assets.
Making matters more delicate: Until December, "inflows accelerated beyond their longer-term trend" over 2005's second half, says Nordvig. Net inflows don't persistently outrun trade deficits. The smaller December total may be the start of a correction that touches off the dollar's decline.
By James Mehring in New York
Before it's here, it's on the Bloomberg Terminal.
LEARN MORE