Is oil partying like it's 1999?
Aaron Pressman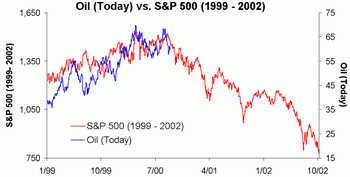 For all the worrywarts and, after my last entry, to appease Bill Miller who doesn't own energy stocks in the Legg Mason Value Trust (LMVTX), I'm posting this Birinyi Associates graphic showing recent moves in the oil market laid on top of the S&P 500's tech bubble history. I don't put too much stock in technical market analysis but it's food for thought.
Before it's here, it's on the Bloomberg Terminal.
LEARN MORE