YM Biosciences' Cancer Drugs Are Working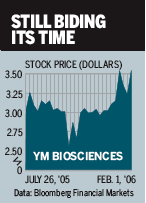 Another tiny biotech, YM Biosciences (YMI ), trading on the Amex, may also have a winner: Tesmilifene for metastatic breast cancer. Now in Phase III trials, Tesmilifene has been shown to improve the effectiveness of commonly used chemotherapies in prolonging life. In January, YM signed a pact with Sanofi-Aventis (SNY ) to investigate the effect of combining Tesmilifene with Sanofi's Docetaxel to treat fast-growing tumors. The study will test whether using Tesmilifene together with Docetaxel enhances the survival of seriously ill patients without increasing toxicity. Initial research will be conducted in Europe and the U.S. Another YM product, for brain cancer, will go into Phase III trials soon. Mitchell Kaye of XmarkCapital Partners, the lead investor, with 10%, says Tesmilifene could generate annual sales of $1 billion. Now at 3.53 a share, YM could hit 15 in a year, Kaye figures. He also expects good results from trials of YM's AeroLef, an inhaler that provides quick pain relief to cancer victims, to be posted soon. Maher Yaghi of Desjardins Securities, who rates YM a buy, sees it making money in 2009 on projected sales of $36 million, and $43 million in 2010.
Note: Unless otherwise noted, neither the sources cited in Inside Wall Street nor their firms hold positions in the stocks under discussion. Similarly, they have no investment banking or other financial relationships with them.
By Gene G. Marcial
Before it's here, it's on the Bloomberg Terminal.
LEARN MORE