Why The First Quarter Could Be A Corker
Upbeat consumers and businesses will power a rebound
New Federal Reserve Chairman Ben S. Bernanke has likened the task of making monetary policy to driving a car while looking only into the rearview mirror. That's because the data on the economy tell policymakers where they have been, not where they're going. However, the fourth-quarter report on gross domestic product deserves a keen eye. Those numbers may well be saying more about where the economy is heading in the first quarter than they say about what was happening at the end of last year.
Real GDP growth last quarter, reported at a mere 1.1% annual rate and down sharply from 4.1% in the third quarter, was both a head turner and a head scratcher. Every economy watcher from Wall Street to Main Street anticipated a slowdown, but not by that much. There were plenty of curiosities, too. Consumer spending, which was expected to grind to a halt because of plunging car sales, actually came in stronger than expected. Business investment showed up much weaker than expected, despite a surge in monthly shipments and orders for capital goods. And federal defense outlays suddenly took their deepest quarterly dive in six years.
The question on the minds of both policymakers and investors is whether last quarter's slowdown is signaling a broad cooling off in the economy in 2006 that will ease inflation worries. Many economists believe it is. And if that's the case, then the Fed can call it quits on its interest rate hikes, and investors would read that as a green light to jump into stocks and bonds without worrying that more Fed tightening could harm their portfolios.
However, a close look at the GDP report suggests the slowdown scenario is premature. Clearly, at some point, the cumulative impact of higher interest rates and a cooler housing market will begin to restrain the economy's pace -- but not this quarter, and maybe not even in the first half. The data suggest that fourth-quarter economic growth may be revised higher when the government, having more complete data, takes its second pass at the numbers on Feb. 28, and that the first quarter's annualized growth rate could show a strong rebound to 5% or greater.
GROWTH THAT ROBUST, especially if it is accompanied by further tightening in the labor markets, would very likely make the central bankers think twice about ending their steady rate increases. The Fed pushed its target rate up a quarter-point, to 4.5%, at its Jan. 31 meeting, which marked the end of Alan Greenspan's 18-year-plus tenure as Fed chairman. Policymakers also hinted that another rate boost at the Mar. 28 meeting is now more iffy.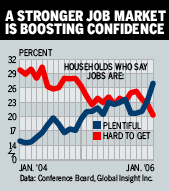 The Fed's statement after the meeting pointed to the "uneven" economic data of late, and it said some further policy firming "may be needed." But that sounded as if the Fed now was less committed to another hike. Back in December the statement said more firming "is likely to be needed." The slightly softer wording appears to imply that future rate decisions will depend on how strong the data on economic growth and inflation look between now and then.
The growth numbers may not look so tame. Consumer spending in particular promises to be a major force in first-quarter GDP growth. Note that household buying last quarter was far more robust than implied by the reported 1.1% increase in real outlays. Excluding the quarter's drop-off in auto revenues from the third quarter, when incentives boosted sales, real spending grew at a 4.8% annual rate, the strongest showing in nearly two years.
MORE IMPORTANT, the rapidly improving monthly pattern of spending at the end of last quarter suggests a very large contribution to GDP this quarter. Remember the worries that consumers might sit out the holiday buying season? Well, real consumer spending posted zesty month-to-month gains of 0.9% in both November and December, far above the 0.3% average monthly gain for the full year. Those increases put outlays at a very high level going into January. If, for example, spending in January, February, and March rises 0.3% per month, real consumer spending in the first quarter would increase at a 6.2% annual rate. Even more modest monthly advances of 0.2% would push outlays up at a 5.4% clip.
Household attitudes were clearly upbeat in January. The Conference Board's index of consumer confidence rose for the third month in a row, hitting its highest level in 3 1/2 years. The rebound is remarkable for the lack of worry it implies about high energy prices. That's partly because optimism has been lifted by improving perceptions of present economic conditions, especially those in the labor markets. The percentage of households who say jobs are "plentiful" is up sharply in recent months to the highest reading in more than four years, while the percentage of those who say jobs are "hard to get" is the lowest in more than four years.
Strong labor markets and solid income growth continue to supply consumers with the wherewithal to keep spending at a hardy pace. Personal income rose smartly in each month of the fourth quarter, and even after adjustment for inflation, aftertax household earnings surged at a 7% annual rate from the third quarter. That jump partly reflects a bounceback from a hurricane-related drop of 2% in the third quarter, but it means that consumers had plenty of spending power heading into the new year.
THE FIRST QUARTER'S MOMENTUM is coming not only from consumers. Business investment also appears set to post a sizable rebound. Real outlays for equipment and software increased at a 3.5% annual rate in the fourth quarter, according to the GDP numbers, the smallest gain since early 2003. However, the monthly shipments of capital goods reported by manufacturers, which usually correlates well with equipment outlays in the GDP report, grew at a 14.9% rate. That pace was a steep acceleration from the second and third quarters.
The disparity is signaling either an upward revision to the fourth-quarter GDP data on equipment outlays or a substantial rebound in first-quarter outlays -- or maybe both. Indeed, forward-looking new orders for capital goods other than aircraft increased at a 10.3% rate last quarter, also a rapid speedup from the middle of last year.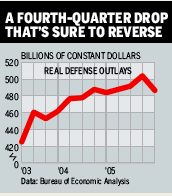 In addition, the trend in federal defense spending is up, not down. Real military spending dropped at a 13.1% annual rate last quarter, after increasing 10% in the third quarter. Outlays can be volatile in any given quarter, but that decline was the largest since early 2000, and it alone subtracted about 0.7 percentage points from the quarter's growth rate of GDP. As first-quarter defense outlays return to their trend, the turnaround will give overall GDP an extra pop.
Throw in an anticipated rise in government spending for post-hurricane rebuilding, which did not show up in a big way last quarter, the need for many businesses to add to their skimpy inventories, and the continued resurgence in the manufacturing sector, and first-quarter GDP appears set to post a sharp turnaround after last quarter's slump.
By James C. Cooper
Before it's here, it's on the Bloomberg Terminal.
LEARN MORE