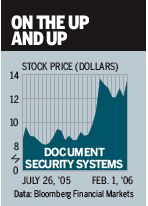 Counterfeiting is a worry not only with banknotes and documents but also with products such as airplane parts. And a beneficiary in the fight against such crime is Document Security Systems (DMC ), whose shares shot up from 8 in September to 13.53 on Feb. 1. This tiny outfit owns patented technology that could be "one of the best solutions to the growing problem," says Otis Bradley of Gilford Securities. Boeing (BA ), for example, stamps its components with Document forms that certify their authenticity. Bradley figures sales could triple, to $6 million, in 2006. In 2007, he sees Document making money on sales of $10 million. "We expect to get other industries -- from pharmaceuticals to carmakers -- using our products," says CEO Patrick White. The company has developed "security paper" that, he says, can't be copied or scanned without revealing warning codes on the copies. Boise Cascade sells the paper in North America, while Australia's PaperlinX (PPXLF ), the world's largest paper distributor, will market it elsewhere. For packages, Document has the technology to embed hidden authentication words, images, or bar codes that can be detected by handheld readers. White is in talks with General Motors (GM ) and Bacardi, among others, for possible contracts. Robert Girards of Ergonomics Group, which owns a 5% stake, says the stock is greatly undervalued.
Note: Unless otherwise noted, neither the sources cited in Inside Wall Street nor their firms hold positions in the stocks under discussion. Similarly, they have no investment banking or other financial relationships with them.
By Gene G. Marcial
Before it's here, it's on the Bloomberg Terminal.
LEARN MORE