Full Throttle On The Factory Floor
Manufacturers have been on the long road to recovery the past two years. Now the sector is set to be a source of strength for the U.S. economy in 2006 as businesses increase investment spending and as manufacturers ratchet up their own capital outlays as well as hiring.
According to the fourth-quarter Manufacturing Barometer from PricewaterhouseCoopers, 76% of large manufacturers are optimistic about the U.S. economy, up from 45% in the previous quarter. The survey of 62 large industrial manufacturers also showed that 71% feel good about prospects abroad.
The positive views seem warranted. New orders for durable goods were up 12.4% from a year ago in the fourth quarter, and unfilled orders surged 14.1%. What's more, the Institute for Supply Management's January index of new orders for manufacturing shows demand is holding up well.
More vigorous activity is pushing manufacturers into pumping up their own capital spending. They plan on spending 9.8% of their sales on new investments, vs. the overall average of 8.8% from the 59 large non-manufacturing companies surveyed by the accounting company.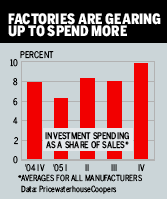 More than 60% of manufacturers also said they plan on hiring new workers this year. The respondents, on average, expect to expand payrolls by 2%. If that trend holds across the entire sector, nearly 285,000 factory jobs would be created this year, the first meaningful increase in manufacturing payrolls since 1997.
The outlook, however, is not without risk. Manufacturing is more reliant on foreign demand, with more than 30% of revenues coming from abroad, vs. an average of 18.8% for nonmanufacturers. Manufacturers need the euro zone and Japan to sustain their modest economic recoveries.
Plus, two-thirds of them see oil prices as a potential barrier to growth. Compared with other sectors, manufacturers are relying more on pricing power to raise margins and offset higher costs. A spike in crude prices would not only hurt demand. It would also wipe out the boost to earnings from stronger pricing.
By James Mehring in New York
Before it's here, it's on the Bloomberg Terminal.
LEARN MORE