Apoplexy: Renovis Takes Aim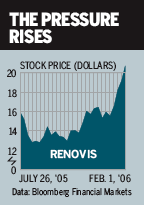 Renovis (RNVS ), a young biopharma developing treatments for pain, trauma, and stroke, could be joining the big leagues. It has teamed up with AstraZeneca (AZN ) for a potential blockbuster, Cerovive, an intravenous compound for acute ischemic stroke now in clinical trials. Also, in July it received $10 million from Pfizer (PFE ) in up-front licensing fees and $900,000 in research funds for drugs to treat pain, inflammation, and other ills. It could get an additional $170 million in progress payments, plus royalties. Although Renovis stock leaped from 12 in August to 20.97 on Feb. 1, it "merits greater investor attention," says Mark Monane of Needham, because of initial results from Phase III trials of Cerovive. That prompted AstraZeneca to apply to sell it as a new drug in the first half of 2007, rather than later. Additional favorable results, he says, are expected from Cerovive's current tests. Monane rates the stock a buy, with a 12-month target of 26. Mark Basham of Standard & Poor's (MHP ), even more bullish, calls it a "strong buy" with a target of 30. Complete success of Cerovive, he says, might mean multibillion-dollar annual sales. If that happens, some say AstraZeneca might just opt to buy Renovis.
Note: Unless otherwise noted, neither the sources cited in Inside Wall Street nor their firms hold positions in the stocks under discussion. Similarly, they have no investment banking or other financial relationships with them.
By Gene G. Marcial
Before it's here, it's on the Bloomberg Terminal.
LEARN MORE