Ben Bernanke's first day on the job as chairman of the Federal Reserve Board will be Feb. 1, following the Fed's upcoming meeting on Jan. 31, which will be Alan Greenspan's last day. Bernanke will have to hit the ground running. Having not attended that meeting, he must then turn around two weeks later and deliver congressional testimony on the Fed's semiannual report on monetary policy. Wall Street will be all ears.
At first blush, Bernanke could not be taking over at a better time. The Greenspan Fed has already done the heavy lifting on policy tightening, having boosted its target interest rate from 1% to 4.5%, assuming a widely expected quarter-point hike on Jan. 31. Inflation, according to the Fed's preferred gauge, is in Bernanke's comfort zone of 1% to 2%. And the economy appears to have slowed in the fourth quarter, based on growth in real gross domestic product, a necessary condition for maintaining tame inflation. Nothing for the Bernanke Fed to do but sit back and put its feet up, right?
Smart investors know that perfect Fed policy is rare, but that's what most investors seem to be expecting. For example, the latest UBS Index of Investor Optimism jumped sharply to its highest reading since June, 2004. The survey was taken from Jan. 2-15, a period including some, but not all, of the recent runup in oil and gasoline prices. A bit less than two-thirds of those surveyed said it was a "good time to invest in the financial markets."
In particular, investors don't seem overly concerned about inflation or interest rates. UBS gave respondents a list of 12 issues for 2006 and asked which were "extremely important." Interest rates and inflation ranked eighth and ninth, respectively. Ranking higher: energy prices, health-care costs, availability of jobs, Iraq, terrorism, job outsourcing, and the federal deficit. Housing-market conditions, which are heavily dependent on interest rates, stood dead last. The results suggest that investors believe inflation will stay tame and that the Fed is all but finished raising rates.
THIS EXPECTATION OF PERFECT POLICY from the Fed is one of the biggest risks in the outlooks for both the financial markets and the economy. After the expected Jan. 31 hike, the markets look for no more than one additional quarter-point increase, to 4.75%, in the Fed's target rate, and the futures markets are hinting that the Fed may even cut rates at some point in the second half. Clearly, this is a highly favorable scenario for both stocks and bonds, and one that is consistent with continued, if more moderate, economic growth.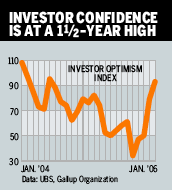 But what if the economy doesn't cooperate? Given the soundings from the latest data and business surveys, the greatest risk right now is that the Fed has not yet tightened policy enough. Compared with past periods, financial conditions are relatively easy. Despite the Fed's 3.5 percentage points of rate hikes, its inflation-adjusted policy rate is still no higher than its historic average. That average is generally thought to be a level that makes policy neutral, neither stimulating nor restricting economic growth. However, long-term interest rates remain low enough to be stimulative. For example, 30-year fixed mortgage rates averaged only 6.1% for the week ended Jan. 20, still a very attractive financing rate.
Also, despite the Fed's rate hikes and the runup in oil prices, the credit markets see even less risk in the economy now than they did when the Fed began tightening policy. One measure of risk is the gap between the yield on a moderately risky 10-year corporate bond and that for a riskless Treasury note. The wider the gap, the riskier the loan. This spread remains very narrow, however, and it is smaller now than it was at the onset of the Fed's rate hiking in June, 2004.
MOST IMPORTANT, OVERALL DEMAND by consumers and businesses remains strong. Consumers are getting support from improving labor markets, as signaled by the extremely low level of new jobless claims in January. Both consumer and corporate balance sheets are solid, and corporate cash flow is abundant. Moreover, demand overseas is picking up, as the euro zone and Japan find firmer footing and as the dollar is set to decline further.
Continued strength in demand was one of the findings from the National Association for Business Economics quarterly Industry Survey with responses from Dec. 15 through Jan. 10. The NABE says that demand for goods and services accelerated last quarter. A net 54% of the 142 members surveyed reported increasing demand, the highest reading since the second quarter of 1997, and improvement was evident across all major sectors.
In addition, the NABE said price pressures remained elevated, profit margins had improved, hiring plans for the next six months match the strength of recent quarters, and capital spending plans for the coming year were solid. All in all, it is more a picture of acceleration than moderation, and one likely to cause some discomfort among Fed officials if the data in coming months confirm that the economy remains strong enough to make future inflation a threat.
ENERGY IS ONCE AGAIN adding to those inflation worries. In recent days, the price of oil has jumped into the $65-to-$70 range on fears of possible supply disruptions from Iran and Nigeria. Based on the historic relationship between oil and gasoline prices, if oil stays in that zone, average pump prices could rise from $2.34 per gallon on Jan. 23, into the range of $2.60 to $2.80. That updraft would reignite concern over the pass-through of higher energy costs into prices broadly.
Amid strong demand and tighter labor markets, it's easier for companies to pass along higher energy costs. Keep in mind that demand by consumers and businesses held up remarkably well, with oil in the range of $55 to $65 per barrel last year. Oil at current levels mainly reflects strong global demand, and global economic growth this year will equal or exceed last year's pace.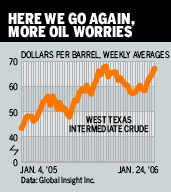 The real danger to the economy and inflation is oil at $100 per barrel, the result of a classic supply shock, should actions in Iran or Nigeria result in a substantial drop in oil flowing to world markets. That would severely complicate the Fed's goals. Unlike high oil prices driven by strong demand, supply disruptions not only fuel inflation. They also quickly and severely distort business costs, stymie production, and generate uncertainty that tends to freeze decision-making and limit gains in investment and hiring.
Energy certainly will play a role in the Fed's decisions this year, but the greater concern of policymakers will be more basic. The Fed will want to assure that demand does not strain the ability of business and labor to meet it. That's the standard recipe for greater inflation pressure. Policymakers will look mainly at the labor markets and wage growth for signs that demand and production remain in a healthy balance.
Watch the economic data closely over the next couple of months. If the numbers fail to imply that the economy is cooling down a notch, then the new Fed chairman could have a lot more work to do in 2006, a situation that would surely put a damper on investors' confidence.
By James C. Cooper
Before it's here, it's on the Bloomberg Terminal.
LEARN MORE