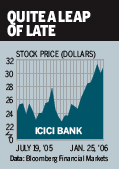 It's no secret how fast India's economy is growing. For investors, the country "offers opportunities equal to those of China," says Steven Lord, editor of Emerging Investments, a newsletter that looks for attractive stocks overseas. As a former British colony, India has well-developed financial markets. The Bombay Stock Exchange, opened in 1886, is the oldest in Asia and boasts world-class technology, so capital flows are strong, says Lord. Among his top picks: ICICI Bank (IBN ), India's No. 2, and fastest-growing, commercial bank. Its American depositary receipts trade on the New York Stock Exchange with the symbol IBN. Consumer spending in India is surging, and ICICI's emphasis on retail banking, such as credit cards and mortgages, is driving its rapid earnings growth, he notes. He figures ICICI'S stock, which jumped from 22 in late October to 31 on Jan. 25, could hit 50 in two years. He sees earnings of $1.36 a share in the year ending Mar. 31, 2006, on revenues of $2 billion, and $1.60 in fiscal 2007, on $2.6 billion, vs. 2005's $1.21 on $1.4 billion. Another ICICI bull: Rajeev Varma of Merrill Lynch (MER ) in India, which has done banking for ICICI in the past year. He rates ICICI a buy, with a 12-month target of 38. Among big U.S. investors who have large positions in ICICI are Gilder Gagnon Howe Capital Management, with a 2% stake; Oppenheimer Funds, 1.7%; and JPMorgan Chase (JPM ), 1.1%.
Note: Unless otherwise noted, neither the sources cited in Inside Wall Street nor their firms hold positions in the stocks under discussion. Similarly, they have no investment banking or other financial relationships with them.
By Gene G. Marcial
Before it's here, it's on the Bloomberg Terminal.
LEARN MORE