If Clinical Trials Pan Out, GTx Could Have A Winner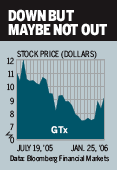 Tiny Biotech GTx (GTXI ) develops drugs mainly for prostate cancer. GTx' lead product, Acapodene, is in Phase 3 clinical trials for prevention of prostate cancer in men with precancerous lesions. Acapodene inhibits estrogen's harmful effects on patients treated for prostate problems -- after their testosterone production is interrupted. "We expect the trials will be successful," says Mark Basham of Standard & Poor's (MHP ). He rates the stock, now at 9, a four-star buy (five stars is tops), with a 12-month target of 18. It's a high-risk stock, he warns, since it depends on the trials' outcome. But if Acapodene succeeds, the market for it could be $3 billion a year, Basham says. Acapodene's other use is to shrink tumors in men already suffering from prostate cancer. Another GTx drug, Andarine, counters weight loss in cancer patients. Its Phase 1 tests for safety are completed. Andarine is being developed together with Johnson & Johnson's (JNJ ) Ortho Biotech unit. CEO Mitchell Steiner is seeking a partner for Acapodene. J&J, he says, is a possibility for Europe and Asia, but GTx is also in talks with others. GTx, whose top officers control 60% of the stock, will handle the U.S. market. Steiner will seek approval for Acapodene in late 2007 and possibly market it in 2008.
Note: Unless otherwise noted, neither the sources cited in Inside Wall Street nor their firms hold positions in the stocks under discussion. Similarly, they have no investment banking or other financial relationships with them.
By Gene G. Marcial
Before it's here, it's on the Bloomberg Terminal.
LEARN MORE