Housing: Will Surging Supply Pop The Bubble?
Forecasts of the housing market's demise in recent years have been premature. The prolonged housing boom has been due not only to strong demand but also to restraint among homebuilders. Now, it appears builders are becoming more speculative as demand is set to wane.
During the second half of 2005, the supply of new single-family houses available for sale has been growing at the fastest pace since the mid-1980s. The surge in supply has corresponded with a gradual slowdown in sales and, until December, little adjustment in housing starts. What's more, the potential oversupply of new housing is most likely worse among multi-family buildings. Housing starts for buildings with five units or more rose 11.4% from a year ago in December, but vacancy rates are at historically high levels, according to Fannie Mae.
Today's situation stands in contrast to the brief slowdown in late 2003 when a bump in long-term interest rates dampened homebuying. Inventories rose, but remained at relatively low levels. In 2003, "it was safe to say that homebuilders had entirely avoided the temptations of speculative building," says FTN Financial chief economist Chris Low. "That is no longer true today."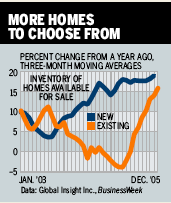 Construction in December continued to grow despite new signs of cooler demand. The National Association of Realtors' housing affordability index hit a 14-year low in November. Higher short-term interest rates are reducing the attractiveness of adjustable-rate mortgages.
Making matters worse for homebuilders is a surge in the number of existing homes for sale, up 20.6% from a year ago. The rising inventory will suppress overall home price appreciation. After registering double-digit gains in recent years, the median price gain in 2006 will be just 3%, predicts Fannie Mae.
As the housing market plateaus, speculative activity will evaporate. That's when housing should slow noticeably. Home sales could post the biggest annual decline since the 6.3% fall in 1991. At that point, builders will scramble to stop projects, and the big gains in construction hiring that have helped to drive the jobless rate lower could start to reverse.
By James Mehring in New York
Before it's here, it's on the Bloomberg Terminal.
LEARN MORE