Will A Small Operator Hang Up Its Phones?
Warwick Valley Telephone (WWVY ), a small operator in New York and New Jersey, has no Street following at all -- one reason its stock has slumped from 25 in July to 17 now.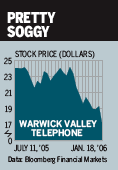 Still, Joshua Eudowe of Santa Monica Partners, which owns shares, is upbeat. He figures it is worth 44 because of its 7.5% stake in the small but highly profitable Orange County Poughkeepsie Limited Partnership, 85%-owned by Verizon Communications (VZ ). OCP, which sells wireless minutes to bigger companies, posted income of $153 million on sales of $180 million in 2005, with a net margin of 85%, notes Eudowe. In 2005 it will produce income for Warwick of $11. 5 million, or $2.16 a share. Warwick's OCP stake is worth $163 million, or $30 a share, figures Eudowe. Its phone business adds $75 million, or $14 a share. Eudowe is pushing Warwick to spin off its phones and operate as an investment firm with OCP as its main asset. CEO Herbert Gareiss declined comment. Without its phones, argues Eudowe, Warwick could be more profitable.
Note: Unless otherwise noted, neither the sources cited in Inside Wall Street nor their firms hold positions in the stocks under discussion. Similarly, they have no investment banking or other financial relationships with them.
By Gene G. Marcial
Before it's here, it's on the Bloomberg Terminal.
LEARN MORE