On Jan. 27 the government is scheduled to announce its first estimate of economic growth for last year's fourth quarter. Headlines are bound to blare that the economy grew at its slowest pace in nearly three years and that consumer spending was the weakest in more than a decade. Investors, especially those in the bond market, will be placing bets on what the data mean for 2006 and how the news might sway Federal Reserve policymakers at their next meeting, only four days later.
Economists are already starting to alert the markets. Based on the latest available monthly data that the Bureau of Economic Analysis will use in calculating the top-line number for real gross domestic product, the economy most likely grew somewhere in the range of 2% to 3% last quarter. Real GDP has not posted a growth rate below 3.3% since the first quarter of 2003. The report will provide grist for the argument that the economy is finally slowing because of soaring energy costs, higher interest rates, and a cooler housing market.
The case will sound compelling because last quarter's slippage was led by consumer spending, which appears to have posted little or no growth after gains averaging 3.8% in the prior three quarters. As the reasoning goes, consumer resilience has been the main support for growth, and as consumers fade so will the economy.
A CLOSE READING of the monthly data, however, shows a flaw in that logic: There is little to suggest that consumers are ready to call it quits. If anything, their spending gained momentum through the quarter after a terrible start that was almost solely the result of a drop-off in car sales from an exceptionally high level that had been exaggerated by generous sales incentives.
The numbers show that buying held up firmly elsewhere. The government's report on retail sales implies very good holiday buying, and the current props under spending, including rising confidence and solid job markets, suggest that overall outlays in the first quarter will rebound strongly -- and so will GDP growth.
When the GDP report is released, look beyond the headline numbers. While inflation-adjusted spending on all goods and services grew little, if at all, last quarter, purchases of everything excluding autos appear to have grown at an annual rate of close to 4%. That would be even faster than the advance in the third quarter.
Consider that sales of cars and light trucks last quarter plunged at an annual rate of nearly 40%. It was the biggest quarterly drop in 16 years, from a 17.9 million yearly pace to 15.8 million. Despite the gyrations, auto sales in the second half still averaged 16.9 million, the same respectable pace as in the first half.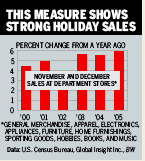 The latest government data on retail sales illustrate the story. Retail buying last month increased a strong 0.7% from November, boosted by a rebound in car sales. Excluding cars, store totals increased a more modest 0.2%. But retail receipts were unusually volatile in the second half of last year, reflecting not only the ups and downs in car sales but also the big swings in gasoline prices and building materials caused by the hurricanes in the Southeast. Excluding those three categories, the remaining 60% of retail sales provide a more stable gauge. That core measure of buying rose at an annual rate of 7.3% in the fourth quarter, faster than the 5.2% pace in the third quarter.
THERE HAS BEEN MUCH HAND-WRINGING over the strength of holiday spending, but the government's retail figures allay those concerns. Looking only at sales at department stores, which correlate with holiday buying, and measuring from previous-year sales levels, as retailers do, sales for this grouping in both November and December rose 5.9%. That was the best showing since 1999.
Spending in these stores makes up about 25% of the retail sales total and includes outlays for general merchandise, apparel, electronics, appliances, furniture, home furnishings, sporting goods, hobbies, books, and music. Moreover, the grouping does not include Internet shopping and mail-order businesses, for which December data are not yet available. In November those sales were up 12.3% from the previous year, and December most likely posted a similarly strong showing.
The momentum in consumer spending should continue into 2006, and January outlays could be quite strong. For one thing, in the past two years, month-to-month gains in the government's grouping of department-store sales have shown a tendency to be weak in December and stronger in January. That may well reflect the increasing use of gift cards, which are not counted as sales until they are used to buy merchandise or services.
For another, the weather during the first half of January was unusually mild, according to the National Weather Service. That not only facilitated shopping around town and trips to the malls but also meant households got a bit of a break on their winter fuel bills.
One new concern, however, is the recent resurgence in the price of petroleum, which has jumped back to more than $65 per barrel on fears that Iran will curtail its oil shipments in retaliation for possible U.N. sanctions if it continues with its nuclear energy program. If oil remains at that level, gasoline prices could head back up this spring.
DESPITE THE WEAK-LOOKING overall result for consumer spending last quarter, the GDP report will show that the rest of the economy held up well. That's important for growth early in 2006, because it means that last quarter's slowdown was not broad-based.
Monthly data show that housing activity, while cooler, made another solid contribution to growth last quarter, and any housing collapse remains unlikely with mortgage rates at only 6.25%. Also, the business sector provided oomph as capital spending continued to advance and as companies began to rebuild inventories after two quarters of liquidation. The biggest downer was a wider trade deficit, which subtracts from GDP growth.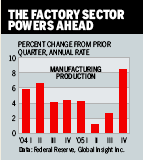 Perhaps the best sign of the economy's forward thrust comes from the industrial sector, where production and hiring continued to move ahead at yearend. Industrial production in December rose 0.6% from November, and companies used 80.7% of their production capacity, the highest utilization rate in five years.
Manufacturing output was weighed down last quarter by cutbacks in the auto industry. Even so, factory production for the quarter grew at an annual rate of 8.5%, the strongest advance in six years. That result is partly because of a bounceback from hurricane-depressed levels in the third quarter. It also reflects big gains in the production of high-tech equipment, which grew at an annual rate of 24% last quarter.
With the economy showing continued momentum outside of consumer spending and with the growth in consumer outlays set to improve markedly this quarter, last quarter's slowdown in GDP growth will not likely be an ill omen for the first half of 2006. Investors betting the other way could be in for a disappointment.
By James C. Cooper
Before it's here, it's on the Bloomberg Terminal.
LEARN MORE