Elizabeth Arden (RDEN ) is a storied name in fragrance and beauty products, but its stock isn't smelling too sweet these days. It's down from 25 in July to 20 on Jan. 18, mainly because of an October cut in its expected 2006 earnings.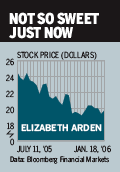 Predictably, some analysts have downgraded Arden. But Gary Giblen of Brean Murray, Carret sniffs an opportunity. He has upped the stock from "accumulate" to "strong buy," with a 12-month target of 26. He argues that weak December sales in Europe, which led to Arden's lowered forecast, will be offset by the success there of Prevage, its new anti-aging cream licensed from Allergan (AGN ), the maker of Botox. Arden's new Britney Spears Fantasy perfume is also a hit in Europe, says Giblen. And, he adds, Arden may be a target of perfumer Coty, which recently acquired Unilever's fragrances. Coty says it wants to be No. 1 in all the segments of the global fragrance market -- which means acquisitions. Based on the deal, Arden is worth 38 a share, Giblen figures. The likelihood of a buyout is stronger now, he says. Coty wants to expand in the U.S., and Arden fits the bill, he notes, because Arden is hot in department stores and among high-spending shoppers at discounters such as Target (TGT ), J.C. Penney (JCP ), and Wal-Mart (WMT ). He expects Arden will earn $1.24 a share (above Arden's low-end guidance of $1.20) in the year ending June 30, 2006, on sales of $988 million, and $1.43 in 2007 on $1.1 billion. Goldman Sachs (GS ), with a 5.7% stake, and Morgan Stanley (MWD ), with 4.1%, are among Arden's big investors.
Note: Unless otherwise noted, neither the sources cited in Inside Wall Street nor their firms hold positions in the stocks under discussion. Similarly, they have no investment banking or other financial relationships with them.
By Gene G. Marcial
Before it's here, it's on the Bloomberg Terminal.
LEARN MORE