A Tasty Treat for Investors
Adrienne Carter

There's nothing like a slice of Sara Lee pound cake top with fresh strawberries and whipped cream. (Can you tell it's nearly lunchtime here in Chicago?) Let's face it though, that tasty treat is only going to help fill out my waistline, not my retirement portfolio. Or could it?

Sara Lee, maker of other yummies like Ball Park hot dogs and Jimmy Dean sausage, announced a $0.1975 per share quarterly dividend late last week. That amounts to a dividend yield of 4.3%, more than twice that of the S&P 500. In this stock market environment where returns are likely to be in the single digits that payout is pretty sweet.

Of course, I may be in the minority in liking Sara Lee stock these days. The company is knee deep in a massive restructuring plan designed to spark earnings growth and get the stock out of a five-year rut. At the heart of the strategy is a renewed focus on marketing and innovation and an effort to turn a disparate conglomerate of mini fiefdoms into a streamlined, centralized team. CEO Brenda Barnes has her hands full. Currently, she's in the process of selling or spinning off some 40% of the company's revenue base, while at the same time trying to prove to Wall Street that Sara Lee can make products that consumers will value over rivals and generic brands.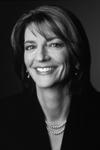 CEO Brenda Barnes
So far Wall Street ain't buying it. The stock is down roughly 20% to $18.50 since the plan was announced in early 2005. That puts it at the low end of its five-year trading range. But to a contrarian like me that makes Sara Lee even more appealing. I figure it's always worth taking a closer look at a stock that practically everybody considers a dog with fleas. And as I see it, much of the bad news is already baked into the stock price of Sara Lee. So just one piece of good news could send Sara Lee soaring, or at least moving in the right direction. There's no doubt it's a risky bet. But as long as they maintain the hefty dividend—which so far, Sara Lee seems committed to—investors are getting paid to be patient.

Before it's here, it's on the Bloomberg Terminal.
LEARN MORE