Wages: A Misleading Predictor Of Inflation
Economists and investors will be paying close attention to the Labor Dept.'s fourth-quarter Employment Cost Index, due out Jan. 31. So far the numbers show that wage growth is slowing, an indication of no wage-driven inflationary pressures. However, those data may be giving the markets and the Federal Reserve a false sense of security.
Through the third quarter, the ECI for private-sector wages and salaries grew by 2.2% from a year ago, down from a 3% pace two years ago. But at the same time, Labor's measure of average hourly earnings grew 3% in the fourth quarter, up from 2% two years ago. Which measure is right?
The two gauges differ in coverage and calculation. Economists usually put more stock in the ECI, since it excludes nonproduction-related bonuses and overtime pay. Moreover, the ECI attaches a fixed weight to each occupation in order to avoid distortions due to shifting job trends across industries. That factor might be pushing up the average hourly pay measure, since the hurricanes temporarily took many low-paying service jobs out of the mix.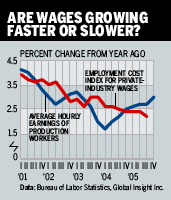 Perhaps more important, though, the current weights for the ECI are based on a list of jobs from 1990. "Many of today's fastest-growing occupations did not exist in 1990," points out Morgan Stanley (MWD ) chief U.S. economist Richard Berner in a Jan. 6 research note. That means many technology, science, and service jobs are not represented.
Labor plans to update its job list and weights for the ECI this March. But for now the index may be understating wage growth. The December jobs report showed wage gains were highest -- up 4.6% over the year -- in the information industries, which include Internet jobs. Plus, the ECI format may also be missing the economy's structural shift toward service-sector industries such as health care and financial services, where hourly pay is rising faster than the overall average and where jobless rates are far below the national level.
The truth of wage growth is most likely between the two measures. But right now the average hourly pay data appear to be the more accurate gauge of how tight the labor markets are.
By James Mehring in New York
Before it's here, it's on the Bloomberg Terminal.
LEARN MORE