U.S.: One Big Reason To Expect A Decent Year For Jobs
Companies can no longer meet demand with existing forces
The Labor Dept.'s monthly employment report contains perhaps the government's most politically sensitive data, especially in an election year. Take the December jobs numbers. The Bush Administration and other Republicans are playing up the good news in the 4.9% jobless rate. Democrats are pouncing on the much-smaller-than-expected 108,000 rise in payrolls. By the time politicians and media folk run it all through the spin cycle, it's hard to know what to think.
As for the market economists, they may not always be right, but the discipline of the market and their clients tend to keep them objective. Right now the consensus of those analysts is that employment in 2006 will grow at a pace similar to 2005's 168,000 jobs per month; hourly wages are likely to grow a bit faster than last year's 3.1% yearly pace; and the unemployment rate will stay close to where it is or creep a bit lower.
But there's an old saying in economic forecasting: The consensus is always wrong. So are the labor markets more likely to be stronger or weaker this year than generally expected? The question is central to the outlook for consumer spending, where higher interest rates and less cash from housing-related strength are expected to limit buying. The issue is also crucial to Federal Reserve policy, since the Fed has implied it will use the job markets as an indicator of potential inflation pressure.
DON'T BE TOO QUICK TO DISMISS the idea that the job markets could end up stronger than expected. The most important reason is one not broadly recognized: The yearly growth rates in payrolls and in business investment for new plants and equipment are highly correlated. And 2006 is shaping up to be a very good year for capital spending, given exceptionally strong corporate finances and the growing incentives to expand.
A quick analysis shows that, from 1990 to 2005, yearly changes in business outlays for new buildings and machines explain, on average, about 85% of the yearly growth in private-sector payrolls. For example, while all of the fourth-quarter data on capital spending are not yet available, business outlays in 2005 appear to have risen about 8%, while private-sector payrolls increased by a bit over 1.8 million workers. That's not far from the job growth predicted by the historical relationship.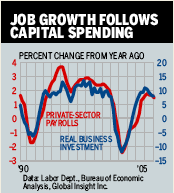 If growth in business outlays accelerates into the 9% to 10% zone this year, which is in the range of expectations, this back-of-the-envelope model implies private payrolls would grow by 2.4 million to 2.7 million. That translates into 200,000 jobs per month or more, a clip that would push the jobless rate into the 4% to 4.5% range by yearend and imply further upward pressure on wages. The forecasting accuracy based on this relationship isn't perfect, but what's important is that the results clearly show how sensitive job growth is to corporate spending.
The upbeat outlooks for both jobs and capital spending are partly related to the unprecedented caution businesses have shown in their spending plans, especially in the early stages of the postrecession period. As a result, business investment remains historically low in relation to gross domestic product among big nonfinancial corporations. But recent data and corporate surveys suggest that the need for more production capacity in relation to demand is finally forcing businesses to shed some of their caution.
THAT INCLUDES WARINESS ON HIRING. A study by researchers at the Bureau of Labor Statistics, published in the December Monthly Labor Review, examined the hiring behavior of large "multi-establishment" corporations, which operate in more than one location in the U.S., vs. that of small "single-establishment" companies doing business in only one location.
The results show that large companies have been especially reluctant to add to their payrolls. During the downturn in jobs following the recession, the larger corporations, which comprise 57% of total employment, accounted for all of the job losses, while the smaller ones, which make up the other 43%, showed modest gains. Moreover, during the first stage of the employment upturn, beginning in 2003, the large multi-establishment outfits continued to shed jobs even as overall payrolls were turning upward.
The research doesn't offer reasons for the trend. Outsourcing may be part of the answer, but studies have been unable to explain losses of the size involved. The long-term upshift in productivity growth has not been great enough to explain all of the losses, either.
The other explanation is that many large corporations, stunned by an unprecedented array of uncertainties from corporate scandals to war to energy costs -- on top of shareholders' growing demands for profits -- simply have been too hesitant to make big commitments to their capital budgets and payrolls. They have tried to satisfy demand with their existing facilities and workers.
NOW THAT'S CHANGING. Based on recent sanguine surveys of corporate sentiment and last year's solid hiring trends, businesses have taken their short-term gains in productivity about as far as they can go. From here on, companies appear ready to rely increasingly on additional workers for their production growth.
Growth in total nonfarm payrolls last year most likely would have exceeded the 183,000 average in 2004 were it not for the severely depressed readings in August and September because of the hurricanes. And signs at the end of last year were encouraging for early 2006.
Although the 108,000 rise in December payrolls was far below expectations, the November job gain turned out to be 305,000 after more complete data, the largest increase in more than a year and a half. While the November jump reflects a rebound from the storms, the December gain appears to have been held back by another bout with harsh weather.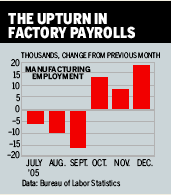 Labor reported that the number of persons not at work due to bad weather was sharply higher in December compared with past Decembers. Supporting that notion, payrolls in the weather-influenced construction industry, which scored job gains averaging 25,000 per month from September through November, suddenly sank by 9,000 workers last month. Still, overall job gains averaged a bit over 200,000 in the final two months, about the same pace as in the two months before the hurricanes. Payrolls in manufacturing, where reluctance to hire has run high, rose for the third month in a row .
Other data also indicate hiring strength. Weekly jobless claims through December remained at a low level consistent with monthly job gains of greater than 200,000. And the December employment index from the purchasing managers' survey of the nonmanfacturing sector, which employs about 90% of all workers, rose to the highest level since August.
The upshot of all this is that consumer spending may hold up surprisingly well in the coming year. But the financial markets' current optimistic view on interest rates might shift to one of disappointment.
By James C. Cooper, with James Mehring in New York
Before it's here, it's on the Bloomberg Terminal.
LEARN MORE