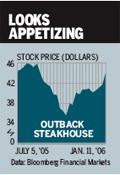 When you invest in Outback Steakhouse (OSI ), you're not only putting your money where your mouth is. You're also buying into a venture-capital strategy that, say some pros, has turned Outback into an appetizing value play. This chain of 1,298 restaurants in 50 states and 21 countries is "in a turnaround mode that has also made it attractive on fundamentals," says Marion Schultheis of investment firm J. & W. Seligman, which owns shares. Its stock has sizzled from 34 in October to 44 on Jan. 11. Six weeks ago, Outback's new management introduced a low-priced "value menu" in the Midwest. The goal: rope in more baby boomers. "Early signs suggest the new menu is driving increased traffic," notes Schultheis. She figures Outback earned $2.26 a share in 2005 and will make $2.60 in 2006 and $3.10 in 2007, up from $2.08 in 2004. Howard Penney of Friedman, Billings, Ramsey says that for six years Outback has been investing in small startup eateries that have performed well. The deals have made the stock "extremely undervalued" based on a sum-of-the-parts assessment, he says. On assets alone, Penney figures, Outback is potentially worth 65 a share, his 12-month target. He says the smart-money crowd is bound to recognize the value of cash-rich Outback soon. Its unusual venture-capital strategy, he argues, has disguised the real value of Outback's restaurant assets.
Note: Unless otherwise noted, neither the sources cited in Inside Wall Street nor their firms hold positions in the stocks under discussion. Similarly, they have no investment banking or other financial relationships with them.
By Gene G. Marcial
Before it's here, it's on the Bloomberg Terminal.
LEARN MORE