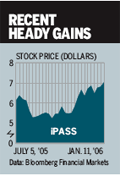 Shamrock Capital Advisors, led by Roy Disney and Stanley Gold, knows how to get investors' attention. On Aug. 1 this column featured Intrado (TRDO ), in which Shamrock had acquired a 6.2% stake. Intrado was trading at 15 back then; it's at 24 now. Shamrock's latest buy: an 11% stake in iPass (IPAS ). Disney and his group favor obscure companies that have leadership positions in their markets and strong cash flow, says Eric Appell of investment firm Merriman Curhan Ford (MEM ), who owns shares and rates iPass a buy. iPass provides companies, including Eastman Kodak (EK ) and General Motors (GM ), with software that lets employees wirelessly connect with their offices and the Internet. "We like the business iPass is in," its sizable cash balance of $180 million, and its $30 million in free cash flow, says Mike McConnell of Shamrock. iPass might use its cash to buy back shares, he adds. Appell says iPass is an attractive play in fast-growing wireless connectivity and security. He expects it to earn 26 cents a share in 2006, up from an estimated 22 cents in 2005. He sees the stock, now at 7, rising to at least 9 this year.
Note: Unless otherwise noted, neither the sources cited in Inside Wall Street nor their firms hold positions in the stocks under discussion. Similarly, they have no investment banking or other financial relationships with them.
By Gene G. Marcial
Before it's here, it's on the Bloomberg Terminal.
LEARN MORE