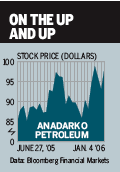 With ConocoPhillips' (COP ) acquisition of Burlington Resources (BR ) in December -- following Chevron's (CVX ) purchase of Unocal in August -- some savvy pros are pointing to Anadarko Petroleum (APC ) as the next likely oil target. A large U.S. oil-and-gas explorer-producer -- mainly in Alaska, Louisiana, Texas, and the Gulf of Mexico -- Anadarko is "an ideal buyout for the bigger oils that need to boost their reserves," says Fadel Gheit of securities outfit Oppenheimer (OPY ). He believes Anadarko is being courted by several majors, which he didn't want to name. Although its stock has risen from 80 in June to 98 on Jan. 4, Gheit figures it's still way undervalued. He thinks Anadarko's 2.4 billion barrels of reserves are worth $30 billion, or $130 a share, based on a price of just $15 a barrel. (ConocoPhillips, he estimates, paid $18 a barrel for Burlington's reserves, and Burlington's stock had already gone up from 40 to 77 in a year before ConocoPhillips bought it at 88.51 in cash and stock.) Anadarko trades at just 7.6 times Gheit's 2006 estimated earnings of $12.80 a share, vs. 2005's estimated $10.30 and 2004's $7.20. Don Schreiber Jr., CEO of Wealth Builders, which owns stock, says huge oil-and-gas reserves and free-cash flow of more than $1 billion make Anadarko both a takeover and a value play. With the oil biggies flush with cash and their stocks on the rise, they are looking hard to acquire assets in the ground. Anadarko was featured in this column on Mar. 7 when it was trading at 70.
Note: Unless otherwise noted, neither the sources cited in Inside Wall Street nor their firms hold positions in the stocks under discussion. Similarly, they have no investment banking or other financial relationships with them.
By Gene G. Marcial
Before it's here, it's on the Bloomberg Terminal.
LEARN MORE