Capital Spending: Ready To Accelerate
Ever since the recession ended four years ago, American businesses have shown unprecedented caution in shelling out money for new equipment, buildings, and even inventories. That past caution, however, is now a key factor in the upbeat outlook for capital spending.
Against a dearth of past investment, many businesses, especially in the industrial sector, lack the production capacity to meet current demand, which has been surprisingly resilient both at home and abroad. Among nonfinancial corporations, for example, capital spending as a share of gross domestic product stood at only 13.9% in the third quarter of 2005. That is well below the long-run average of 15.7%, and far below the peaks reached in the 1980s and '90s.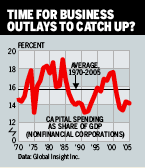 Recent trends in the industrial sector illustrate why that figure is almost certain to jump in 2006. Industrial output is growing faster than the rate at which companies are adding to their production capacity. Through November, output had grown 2.8%, while capacity was up only 1.6%. That disparity is likely to widen. From most recent signs, industrial production is accelerating.
As a result, the average operating rate rose sharply last year, reaching 80.3% prior to Hurricane Katrina, the highest in nearly five years. Faster output is sure to keep utilization rates rising in 2006, adding pressure on companies to buy new equipment and beef up inventories. Businesses also will face the need to replace worn-out computers and tech gear in order to maintain productivity gains.
Companies will be putting up new buildings at a faster rate as well. Industrial vacancy rates are falling, and the American Institute of Architects' Architecture Billings Index, which foreshadows business construction trends about six months ahead, is rising. The AIA says the November increase implies that 2006 could be the best year for nonresidential building since 2000.
Companies are forced to shed their caution at a time when their outlays will offset the expected slowdowns in housing and consumer demand. Plus, having a ton of cash on hand will help businesses to feel bolder.
By James C. Cooper, with James Mehring in New York
Before it's here, it's on the Bloomberg Terminal.
LEARN MORE