U.S.: Can The Fed Keep Things Cooking At A Low Boil?
Its new goal: Ensuring that the economy doesn't overheat
During the past year and a half of rate hikes, Fed-watching sometimes has been downright boring. That's mainly because the Federal Reserve stated its basic goal and the strategy to achieve it more clearly than at any time in the past. In a nutshell, the economy no longer needed unusually low interest rates to guard against Japanese-style deflation. So the Fed set out to lift rates gradually back to a neutral level that would neither stimulate nor restrict economic growth, while keeping inflation under control.
Well, guess what? That job is done. The Fed said as much in its statement accompanying its Dec. 13 rate hike. For 2006, however, Fed policy promises to be a lot more complicated. And that will be true even though Ben S. Bernanke, who takes the Fed chairmanship from Alan Greenspan on Jan. 31, is a strong proponent of greater openness in policy communication. It's because the Fed has a brand new goal, and its strategy will not be as predictable as it has been up to now.
The new focus first showed up in some Fedspeak contained in that same Dec. 13 statement. Policymakers warned that "possible increases in resource utilization" could add to price pressures. In plain English, that means the Fed thinks the economy is near the point where the labor markets and production facilities will begin to strain to keep up with demand. That could cause the economy to overheat, putting excessive steam behind wages and prices.
This task is far trickier to carry out and communicate than simply shifting policy back to neutral. The Fed now has to decide how much to limit economic growth without stopping it cold. That's an especially delicate job, given the interest rate sensitivity of housing. The biggest risk of overtightening in the coming year is that higher rates could cause housing activity and home prices, which have been key to overall growth, to collapse, perhaps dragging down consumers and the economy.
SO HOW WILL THE FED carry out this new and more daunting policy phase? Right now, the markets are betting that the central bank will lift its target federal funds rate to either 4.5% or 4.75%, up from 4.25% currently, and then pause to see what raising the rate from 1% in June, 2004, has wrought. The real funds rate, which is adjusted for inflation, is close to its long-run average, one sign that policy is close to neutral.
But given the Fed's new watchwords, two trends will have to be clear before policymakers can feel comfortable about putting rate hikes on hold. One, the economy will have to show that it is slowing down from its surprisingly robust pace of 2005. And two, measures of core inflation, which exclude energy and food, will have to remain tame, indicating that the 2005 surge in energy prices is not working its way into inflation more broadly.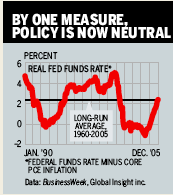 On the latter trend, policy officials are breathing easy. The latest news on the Fed's preferred measure of inflation, the core price index for personal consumption expenditures, shows a scant 0.1% rise in November, the same as in October. Those increases were less than the 0.2% gains in both August and September, and the yearly rate fell to 1.8%, the lowest such reading in more than a year and a half. That pace is well within the 1% to 2% comfort zone of several Fed officials.
However, because of the lag between the time the Fed makes a rate change and the time it affects the economy, the Fed doesn't make policy based on last month's price indexes. And that is why policymakers are now focusing on resource utilization. On that front, Fed officials are feeling a bit nervous because the economy is showing almost no signs of slowing down.
THE FOURTH QUARTER, measured by real gross domestic product, will be weakened a bit by the impact of the hurricanes and the dropoff in car sales from a summer peak that was exaggerated by special deals. However, the latest readings on consumer spending and industrial production suggest the economy was gaining momentum as 2005 drew to a close, portending a speedup in first-quarter GDP growth.
In November, for example, inflation-adjusted consumer outlays posted the strongest gain since July, and holiday sales appear to have been pretty good. Also, post-Katrina rebuilding and an oil patch recovery pushed up industrial output to the fastest two-month rate in seven years, following September's plunge. Output of high-tech equipment is booming, but even excluding tech production, factories are using nearly 80% of their production capacity, the highest rate in 5 1/2 years.
Despite rising pressure on industrial capacity, though, the Fed's new attention to resource utilization will be focused on the labor markets. The unemployment rate is a low 5%, and strong economic growth would only tighten the job markets further. Already, pay of production workers is rising at a 3.2% clip from a year ago, the fastest yearly pace in more than 2 1/2 years.
One forward-looking indicator suggests further acceleration. The Bureau of National Affairs' Wage Trend Indicator, a composite of gauges that foreshadow wage patterns, rose in the fourth quarter to the highest level in more than four years. The BNA says the factors that normally precede wage increases now suggest a moderate acceleration in wage growth.
OF COURSE, THE FED isn't going to raise rates just because wages are growing faster. Moreover, as the late 1990s proved, there is no magic number for the jobless rate that will spur inflationary pressures. What the Fed will be watching for are signs that the growth in wages is greatly exceeding the ability of productivity gains to offset them. That's the point at which tight labor markets will start to place upward pressure on inflation.
On that front, keep an eye on unit labor costs, reported each quarter by the Bureau of Labor Statistics. These are wage costs, which account for about 70% of overall production costs in the economy, that are adjusted for productivity, and they are closely correlated with pricing trends. For 2005, unit labor costs appear to have grown less than 2%, a pace generally accepted to be consistent with tame inflation. The Fed would most likely welcome a continuation of that pattern in 2006, but any sizable speedup from that pace would set off alarms.
The Fed will also pay close attention to what's happening in the housing market. After all, housing is the economy's most interest-sensitive sector, and the first indication that past rate hikes are gaining traction will show up there. But the Fed's influence -- or lack of it -- on long-term rates in the bond market makes housing the Fed's most delicate balancing act. Long-term bond yields are still below where they were when the Fed started to lift short-term rates.
One of the key questions for 2006: Is the current low level of bond yields, which influence mortgage rates, consistent with the Fed's goal of assuring that the economy doesn't overheat? If not, then bond yields will have to go higher at a time when housing activity and prices would be increasingly vulnerable.
By James C. Cooper
Before it's here, it's on the Bloomberg Terminal.
LEARN MORE