By Mara Der Hovanesian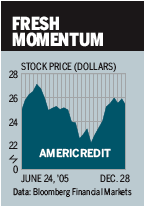 AmeriCredit (ACF ) is the market's comeback kid. In March, 2003, the stock skidded to 1.63 -- down from its peak of 63 in mid-2001 -- after the national auto lender got hit by bad loans and, ultimately, funding woes. It's now at 25, and some pros say that it still has running room -- and that AmeriCredit could be a takeover target. Hedge fund manager Tom Brown at Second Curve Capital bets that Wachovia (WB ), the No.4 U.S. bank in terms of deposits, will bite. Last summer the Charlotte (N.C.) giant bought auto-finance outfit WFS Financial (WFSI ) in Irvine, Calif., which, like AmeriCredit, specializes in low-credit borrowers. Says Brown: "Now that [Wachovia] is in the business, it'll get synergies from merging the two companies." Brown owned 500,000 shares as of Sept. 30. Neither Wachovia nor AmeriCredit would comment.
The auto loan business is ripe for consolidation. No national player owns more than 6% of any geographic market. And big banks such as JPMorgan Chase (JPM ) and Citigroup (C ) are hot to bulk up in consumer finance. John Hecht of JPM Securities, who pegs AmeriCredit at 33, says banks will be lured by the company's 13%-plus margins and robust growth: New loans jumped 44%, to $5 billion, in the fiscal year ended June, 2005, and AmeriCredit sees as much as $6.2 billion in fiscal 2006. "It has resilient margins in a rate climate where banks are getting squeezed," says Hecht. Another plus: AmeriCredit is fit enough these days to get a $500 million refund for reserves it had paid to Wall Street loan securitizers for possible loan defaults.
Note: Unless otherwise noted, neither the sources cited in Inside Wall Street nor their firms hold positions in the stocks under discussion. Similarly, they have no investment banking or other financial relationships with them.
Gene Marcial is on vacation.
Before it's here, it's on the Bloomberg Terminal.
LEARN MORE