U.S.: Business Gets Behind The Wheel
Move over housing -- corporate spending will drive growth in 2006
As anyone facing a long trip down the highway this holiday season knows, it's always helpful to switch drivers. Heading into 2006, the economy will be following that same strategy. For the past couple of years, housing and consumer spending have been in the driver's seat. Now it's time for the business sector to give those two a break. And by all indications, companies are ready to take over. They are optimistic, efficient, eager to expand their operations, and most of all financially fit.
This transition is a key theme of the economic forecasters we surveyed in BusinessWeek's annual Investment Guide. Higher interest rates are one of the forces behind the shift. On Dec. 13 the Federal Reserve raised rates again by a quarter point, to 4.25%, and said it was not yet finished hiking.
As rates rise, the new growth mix already appears to be falling into place. An increasing number of reports from housing starts to mortgage applications to pending home sales suggests that housing is cooling off. Also, household borrowing is slowing, and consumer spending, while still holding up very well, doesn't have the same vibrance it showed in the third quarter.
At the same time, a wide range of businesses is boosting capital spending and increasing hiring. And why not? The economy's rebound from the ravages of Mother Nature and costlier energy has given companies hope for the future. Plus, they have rock-solid balance sheets and a ton of cash to make their ventures happen -- so much financial power, in fact, that higher borrowing costs will not be a restraint. And for exporters, growth prospects abroad are looking better all the time.
This changeover is important because one of its key byproducts will be further additions to payrolls and incomes, and that will help to limit the slowdown in consumer spending. As other sources of household buying power, such as cheap money and home equity, begin to diminish, more traditional support for spending from healthy labor markets will take up some of the slack. This virtuous cycle is the chief reason to expect 2006 to be another good year for the economy.
THE LATEST WORD from the nation's chief executives is one of renewed optimism, after the uncertainties created by the autumn storms and their sharp impact on energy costs. The Business Roundtable, which represents companies that account for $4 trillion in sales, reported on Dec. 14 that its CEO Economic Outlook Index rebounded to its second-highest level since the survey began in 2002, after a steep fall in September.
The CEOs polled from 117 companies see "broad economic strength" heading into 2006. They report that capital-spending plans continue to rise and that employment expectations are near their all-time high. The execs expect the economy to grow 3.3% in the coming year, the same average projection of the economists in BusinessWeek's outlook survey.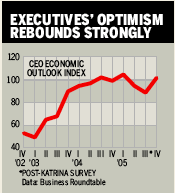 Other mid-December soundings corroborate the CEOs' views. For one, Manpower Inc. (MAN ) says that hiring plans for the first quarter remain at a high level. For another, the Institute for Supply Management's semiannual outlook survey shows upbeat expectations for capital spending among both manufacturers and nonmanufacturers. Factories expect to lift their plant and equipment outlays by 9% in 2006, while service-sector companies plan to bump up their spending by 11%.
The manufacturing sector in particular has picked up much momentum in recent months, as seen in stronger orders, rising backlogs of unfilled orders, and the need for many companies to boost their inventories to achieve better alignment with strong demand. And consumer buying keeps rolling along. In November retail sales rose 0.3%, but excluding the sharp drop in gasoline prices that depressed gas station receipts, sales jumped a sturdy 1%.
Inventory data for October show that the growth of business inventories continues to trail that of sales. That pattern pushed the ratio of stockpiles to sales down yet again, leaving it far below its long-term trend and indicating an inadequate level of inventories. That situation will spur production gains in coming months.
PERHAPS THE MOST IMPORTANT REASON to expect the business sector to contribute significantly to overall growth in 2006 is the extraordinary strength of corporate finances. Even though interest rates will likely continue to rise well into 2006, and with labor costs apt to increase further, businesses in general are sufficiently flush to handle those pressures and more.
To begin with, the balance sheets of nonfinancial companies are about as pristine as they have ever been. Based on recent Fed data, net worth for these companies in the third quarter rose at a 10.3% annual rate from the second quarter, close to the same annual pace during the past two years. That's a strong and steady growth rate not seen since the technology-led stock market boom of the late 1990s.
Corporate debt, furthermore, is the most manageable in years. Over that same two-year period, liabilities have increased by $242 billion, but total assets have grown by more than 10 times that amount, by $2.5 trillion. Importantly, credit-market debt stood at only 45.5% of net worth in the third quarter, the lowest ratio in 18 years.
IT'S NOT SO MUCH THAT COMPANIES are in good shape to borrow to meet their financing needs for next year's new buildings, equipment, inventories, and payrolls. It's that, as a sector, nonfinancial businesses don't really have to borrow at all. That's because internally generated funds from profits and depreciation allowances have grown 24.4% during the past year, the largest such increase in 25 years.
Part of that surge reflects a gusher of repatriated earnings coming from overseas operations. Companies were given the opportunity to bring those earnings home at a much reduced tax rate, based on a tax-law change in 2004, and the flow was especially heavy in the third quarter as internal funds skyrocketed at a 79% annual rate from the second quarter. Economists expect the pace of repatriation to accelerate in the fourth quarter.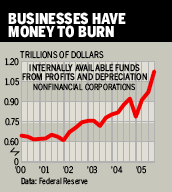 The rush of funds available for investments is particularly striking, given that internal funds in the third quarter stood $197.5 billion greater than capital expenditures. A gap that size is unprecedented in the more than 50-year history of the Fed's data. In the past, during periods of strong growth, it has almost always been the other way around: Outlays for capital spending have exceeded internal funds, an indication of the borrowing needs of companies.
As of November, 2005, this four-year upswing in business begins its fifth year. Throughout the past four, companies have been hit with an assortment of problems, such as terrorism, corporate scandal, war, and an energy shock, all of which have generated uncertainty and caution. But over the same period corporations have prudently built up their finances. And with that financial power, businesses are ready to lead the economy further on up the road in 2006.
By James C. Cooper
Before it's here, it's on the Bloomberg Terminal.
LEARN MORE