Montpelier Re: "A Half-Off Sale"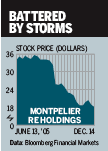 Like many insurance stocks, Montpelier Re Holdings (MRH ) has taken a beating. It's on "a half-off sale," says John Maloney of M&R Capital Management. Shares plunged from 43 in March to 18 on Dec. 14. Maloney bought at 19. The drop was due to a $1.3 billion loss from the unprecedented five U.S. hurricanes. That far outstrips the Bermuda reinsurer's storm losses of $404 million last year and $164 million in 2003. But Maloney sees 2006 profits zooming, because hurricanes will probably revert to their usual pattern of two or three a year. He also says insurance rates will rise, boosting earnings. And there will be less competition, with fewer reinsurers taking big risks in 2006. Montpelier wrote an estimated $1 billion in policies in 2005, vs. $870 million in 2004, says Maloney. He forecasts below-consensus 2006 earnings of $3.50 a share and $3.60 in 2007, up from a loss in 2005. Big players own fat stakes in the stock: Fidelity Investments, 13%; and White Mountain Advisors, 19%.
Note: Unless otherwise noted, neither the sources cited in Inside Wall Street nor their firms hold positions in the stocks under discussion. Similarly, they have no investment banking or other financial relationships with them.
By Gene G. Marcial
Before it's here, it's on the Bloomberg Terminal.
LEARN MORE