U.S: Can Productivity Keep Up The Good Work?
It must stay on track with pay gains to hold inflation at bay
As economic forecasters begin to take a serious look at prospects for 2006, some key themes are emerging. One is the economy's resilience at the end of 2005 and how that will play into inflation and Federal Reserve policy. Another is the indication of a cooldown in housing and how that will affect home prices and consumer demand. And wild cards are on everyone's mind, from energy prices to the dollar to Wall Street's relationship with soon-to-be Fed Chairman Ben S. Bernanke.
However, the sleeper issue of the year could well be productivity. The influence of increased productivity on the upswing in business over the past four years has been enormous. Since the recession ended in the fourth quarter of 2001, growth in productivity has averaged 3.4% annually. That far exceeds the pace in any similar period since the 1960s and partly explains the "jobless recovery" of this upturn. But even in the first six quarters of this recovery, when payrolls fell by more than 1 million workers, the economy still grew at a 2.1% annual rate. Productivity's heady clip also generated income growth for both workers and businesses, while keeping upward pressure off inflation.
Of course, in the past two years, the contribution of productivity to overall economic growth has decreased, while the share coming from additional hiring has picked up. Therein lies the crucial question for 2006: How much growth will come from productivity gains, and how much from job growth? Given the tightness of the labor markets in November, the outlook for both inflation and interest rates might well hang in the balance.
THE ROBUST TREND in productivity looks encouraging for inflation prospects, at least for now. Output per hour worked at nonfarm businesses in the third quarter jumped at an annual rate of 4.7% from the second quarter, and it was up 3.1% from a year ago.
Some of last quarter's surge reflected work time lost in areas affected by Hurricane Katrina. Hours worked rose at a mere 0.1% annual pace, after growth averaged 1.7% in the first half. But even adding back the lost work time, productivity still would have posted an impressive gain.
The current trend suggests that businesses are holding the reins firmly on their unit labor costs, which is perhaps the most important influence on company pricing decisions and thus the inflation outlook. Unit labor costs fell 1% last quarter, and over the past year they have grown only 1.8%, much less than the rise in prices, which explains why profits margins have remained very high.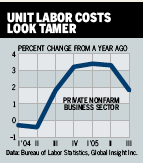 What's especially encouraging is that the growth in unit costs has slowed sharply from its pace earlier in the year. That pickup is proving to have been a blip caused by a surge in 2004 compensation related to the payout of stock options and bonuses, which pushed up unit costs at a 7.6% annual rate in the fourth quarter of 2004. That pattern might recur this quarter, given the Street's record bonuses. In addition, based on new tax data, the government revised down its estimates for the growth in basic wages and salaries earlier this year. The change meant unit labor costs fell in the second quarter, instead of rising as first estimated.
The tamer pace of unit labor costs will most certainly play favorably into the Fed's thinking about interest rates at its Dec. 13 policy meeting, especially since that cooling-off is accompanied by a slowdown in the Fed's preferred measure of inflation. In October, inflation measured by the price index for consumption expenditures, excluding energy and food, rose only 1.8% from a year ago. This gauge has been falling since hitting a peak of 2.3% in November of last year, and it is now firmly within the stated 1%-2% "comfort zone" of incoming Fed chief Bernanke.
BUT THE REAL FOCUS of Fed officials will be on how the labor markets and productivity will play out in 2006. Despite the recent good news on productivity, the trend in output per hour has slowed -- even if from its spectacular pace earlier in the recovery. With the economy expected to grow about 3.5% this quarter, and with hours worked through November growing in the 1%-1.5% range, productivity this quarter seems likely to slow to about 2%.
That comes amid signs that hiring is strengthening and wage growth is picking up. The danger for 2006: Pay gains that are not offset by advances in productivity will feed straight into unit labor costs, threatening to fuel inflation.
The November employment report showed that job markets continue to tighten amid growing signs of shortages of skilled labor. Job growth is bouncing back strongly from the Katrina and energy-related slowdown in jobs in September and October. Businesses added 215,000 new workers last month, after increases of only 17,000 in September and 44,000 in October. Prior to Katrina, 2005 job gains had averaged 195,000 per month.
Post-hurricane rebuilding and recovery was one factor in last month's strength, but not the only one. High tech was a leader in the gain in factory payrolls, which were up for the second month in a row. Factory jobs have not posted back-to-back gains in 1 1/2 years. Business services added 29,000 workers. Overall, the November increases were the broadest across industries since May, 2004.
Larger job gains could be on the way. In November, the number of persons saying they were not at work due to bad weather remained at a high level that was atypical for past Novembers. More important, recent readings on jobless claims are consistent with much larger payroll gains. Through November, claims other than those storm-related were even lower than prior to the storms.
NOT SURPRISINGLY, given that the unemployment rate is already at a low 5%, wage growth is beginning to pick up. The Fed's Nov. 30 Beige Book, a summary of regional economic conditions prepared for the upcoming meeting, reported at least modest upward pressure on wages with a "more substantial" push in the Fed districts of Boston, Richmond, Atlanta, and San Francisco.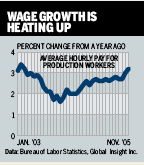 In November, nationwide hourly pay of production and nonsupervisory workers rose 0.2% from October, when they had jumped 0.6%. Some of that large average gain was skewed by more jobs in higher-paying industries, such as construction and manufacturing, that were boosted by the storm cleanup. However, the yearly pace of hourly pay has been accelerating since early 2004, when it reached a low of 1.6%. In November pay was up 3.2% from a year ago, the fastest clip in more than 2 1/2 years.
Wage gains should get larger in 2006, given how tight the labor markets are. Whether or not those raises are inflationary will depend on productivity. Strong gains in efficiency partly explains why job growth has been healthy but not booming, and why prices outside of energy have remained tame. However, with economic growth expected to stay healthy in 2006, productivity will have to keep rising about 2% to continue the balance between job growth and inflation pressures. If productivity falls short of the 2% mark, policymakers at the Fed will start to get nervous.
By James C. Cooper & Kathleen Madigan
Before it's here, it's on the Bloomberg Terminal.
LEARN MORE