How The BlackBerry Flap Helps Acacia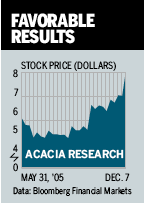 Licensing patented intellectual property is big business. A suit that NTP filed against Research In Motion (RIMM ), which threatens to shut down its BlackBerry operations, highlights the importance of tech licensing. That has drawn investor attention to Acacia Technologies (ACTG ), which teams up with small outfits that own patented technologies and helps license them. It has filed suits against companies it believes infringe on those patents, including such biggies as Comcast and Cox Communications. On Dec. 5, Matsushita Electric Industrial (MC ) settled an infringement suit that Acacia filed covering its audio-video-enhancement technology used in flat-panel display TV. Last year, Sony (SNE ) also settled with Acacia. "Our bigger patent suits are against cable- and satellite-TV companies covering digital media, mainly video-on-demand," says CEO Paul Ryan. Acacia, he says, has licensed 300 cable-TV and Internet companies, including Walt Disney (DIS ) and Bloomberg. A key court ruling on the digital media suit is expected to come down soon, "and if it's favorable, as I expect, cable outfits may be forced to settle and sign licensing pacts with Acacia," says investment adviser Paul Haber of Leeb Group. Haber says that, even before any settlement, Acacia will turn profitable in 2006 on revenues of $50 million to $60 million. Its stock is up from 4.50 in July to 7.83. Acacia was featured in this column in April when it was at 5.50. Comcast declined comment, and Cox did not return calls.
Note: Unless otherwise noted, neither the sources cited in Inside Wall Street nor their firms hold positions in the stocks under discussion. Similarly, they have no investment banking or other financial relationships with them.
By Gene G. Marcial
Before it's here, it's on the Bloomberg Terminal.
LEARN MORE