U.S.: Why Economic Growth Is Galloping
Consumers and businesses have lots to spend as they get financially stronger
The economy is proving as unstoppable as the 11-0 Indianapolis Colts. Consumers have kept spending even in the wake of sharply higher energy prices and after their confidence was pummeled by this summer's hurricanes. And despite initial worries over demand generated by the storms and oil hikes, businesses continue to invest in new equipment and add to their payrolls.
The economy's resilience is especially evident in the latest update on growth from the Bureau of Economic Analysis. The BEA's second look at third-quarter gross domestic product showed that the economy grew by a robust 4.3% annual rate, even with the business shutdowns caused by Hurricanes Katrina and Rita. And real GDP in the fourth quarter appears to be increasing at a healthy pace of greater than 3%. For all of 2005, real GDP is on track to expand by 3.7%.
That's a bit higher than the 3.5% projected by the economists surveyed by BusinessWeek at the end of 2004. But what's more revealing is that the consensus forecast was predicated on oil prices slipping back to $39 per barrel by now and the Federal Reserve hiking its target for the federal funds rate to only 3.4% by yearend. Instead, oil remains well above $55 and fed funds have already reached 4%, with more hikes on the way.
So why has the economy performed above expectations amid unexpected developments? The main explanation seems to be that, despite the Fed's desire to tighten monetary conditions, consumers and businesses, on average, still have access to cash, whether through cheap borrowing, better income and profit growth, or rising housing and stock market wealth. Accommodative financial conditions are proving to be the economy's Peyton Manning, quarterbacking the steady forward movement in demand.
Attractive bond yields, a rising stock market, robust profit growth, and, thanks to the recent fall in oil prices, more household buying power are allowing consumers and businesses to spend. Since nothing in the outlook suggests any sharp reversal in these stimulative trends, the economy should enter 2006 with much more momentum than seemed likely only a few months ago.
MUCH OF THAT STRENGTH, surprisingly enough, will be concentrated in the consumer sector, which has weathered the shocks of 2005. The GDP revisions show real consumer spending increased at an annual rate of 4.2% in the third quarter. That's better than the 3.9% pace previously estimated, and it occurred during a quarter when gasoline prices hit more than $3 per gallon.
Fourth-quarter spending did get off to a weak start, but the major reason was that domestic auto makers removed the generous financing deals that had propped up sales over the summer, causing a huge drop in car buying from an exaggerated level. Consumers are out again shopping, as indicated by the generally upbeat sales reports from Black Friday and Cyber Monday.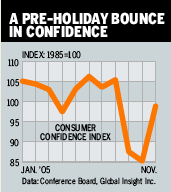 One reason consumers may be willing to spend is because they are feeling more optimistic about the economy. The Conference Board's index of consumer confidence jumped to 98.9 in November from 85.2 in October. The nearly 14-point gain was the biggest increase in 2 1/2 years. The indexes covering current economic conditions and consumers' assessment for the next six months both rose sharply.
The board attributed the upbeat sentiments to a more than 40 cents drop in the price of a gallon of gas and better job growth. Fewer households rated jobs as "hard to get" in November. By the end of the month, regular gasoline had dropped to an average of $2.15 nationally, and it had dipped below $2 in some parts of the country.
BESIDES THE GAIN IN INCOME resulting from better job growth, households are also benefiting from the recent rally in the bond market. Bond traders have defied Fed policymakers this year by keeping long-term rates low even as the Fed was hiking short rates. Long yields began to edge up in the fall, when inflation worries cropped up, but yields have since fallen back. Cheap bond yields have been one key financial condition that has stimulated this economy, especially via housing.
Make no mistake, the housing sector is cooling, but activity will slow in fits and starts. Look at what occurred in October. Sales of existing homes fell off as expected, dipping 2.7% to a still impressive annual rate of 7.1 million. But new home sales jumped by 13%, to a record annual rate of 1.42 million.
Buyers, worried that rates would continue to rise, may have rushed to close a sale. But if bond yields remain low, mortgage rates could stay close to 6% in coming weeks. That would provide continued support for housing demand. More important, the dip in rates will encourage some additional refinancing activity that will bolster consumer spending as homeowners extract extra cash from their homes.
CONSUMERS AREN'T CARRYING this economy alone, though. Businesses are also contributing more to growth than they did in previous years. According to the new GDP data, inventories fell by the biggest amount since the 2001 recession. Rebuilding stockpiles will require more gains in production in coming months. And business investment in plant and equipment remains strong.
In particular, equipment outlays grew at a 10.8% rate in the third quarter, up from the original estimate of 8.9%. The pace could be even faster this quarter, based on the October rebound in capital-goods orders and shipments, after being depressed in September by the hurricanes and the strike at Boeing Co. (BA ) Even excluding aircraft, equipment orders continue their steady uptrend.
Easy access to money, whether from good profits growth, abundant cash flow, or cheap borrowing costs, has enabled companies to boost their capital spending budgets. The BEA's tally of third-quarter corporate profits, which accompanied its GDP update, showed that economywide earnings fell by $45 billion from the second quarter. However, that included $151.2 billion in hurricane-related losses. Adjusting for the BEA's estimates of storm losses incurred both this year and in last year's third quarter, profits from current production are up 21.4% from a year ago, the strongest showing in three years.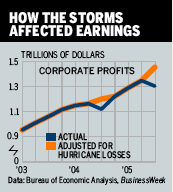 But the really interesting feature of last quarter's earnings is the way profit margins held up despite the hurricanes and surging energy costs. Profits of nonfinancial corporations remained at an exceptionally high 13.2% of the sector's GDP. That was down only slightly from the record 13.3% hit in the second quarter, and it continues to surpass the previous record reached back in 1997.
With strong earnings fueling capital spending, and with improving confidence and better job markets powering consumer outlays, overall demand will be strong enough to energize the economy heading into 2006. And while only time will tell if the Colts will remain unbeaten, little in the data suggests that the economy will be thrown for a loss anytime soon.
By James C. Cooper & Kathleen Madigan
Before it's here, it's on the Bloomberg Terminal.
LEARN MORE