The Dollar Is Still Defying Gravity
One big surprise of 2005 has been the rise of the dollar. Higher interest rates in the U.S. vis-à-vis the rest of the world have partially bolstered the currency. But now that other central banks are set to begin raising rates, the question becomes whether the greenback will retain its value in 2006 given the huge U.S. current-account deficit.
So far this year the dollar is up 3% on a trade-weighted basis and it has jumped 13% against the euro and 15% against the yen. Foreign companies and investors still have confidence in the American economy. It's their investments that are lifting the dollar and could offset any weakness resulting from higher interest rates in Europe and Japan.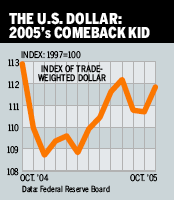 A good sign of that confidence is foreign direct investment (FDI), which flows into hard assets such as equipment and structures. In the first half, FDI in the U.S. totaled $47.8 billion, and for all of 2005 it should equal or exceed last year's total of $95.9 billion. What's more important, says Joseph Quinlan, chief market strategist at Bank of America Corp.'s (BAC ) Investment Strategies Group, is that the data refute the notion that China and the U.S. are fighting for funds. FDI into China should total about $55 billion in 2005, down from $60.6 billion in 2004.
Global investors also continue to snap up U.S.-issued securities such as Treasury bonds and corporate equities. In September, net foreign buying of U.S. securities hit a record $101.9 billion. Treasury data show that Britain has been a big purchaser of U.S. securities, but analysts at Capital Economics in London think that these inflows might be the result of excess oil revenues from the Middle East and Russia being channeled through Britain and into U.S. markets. If so, a reversal in oil prices could result in a dip in foreign purchases of U.S. securities.
The falloff, however, may not be enough to cause any sudden drop in the dollar. That has been a fear in 2005, given the growing U.S. current-account deficit, the broadest measure of America's IOUs to the rest of the world. The day of reckoning over its huge imbalance looks likely to be postponed as long as foreign investors are content to park their cash in the U.S.
By James C. Cooper & Kathleen Madigan
Before it's here, it's on the Bloomberg Terminal.
LEARN MORE