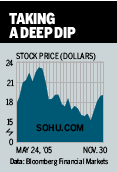 With China's vast Internet market in high gear, some pros are rushing to snap up shares of the big operating companies in the Chinese Web world. One such is Sohu.com (SOHU ) (SOHU), which trades on the NASDAQ. It is No. 2 in online ad revenues, offering content, brand advertising, search services, online game services, and e-commerce through its seven Web portals. "Sohu is a well-established brand that will benefit from the underlying growth of China's online advertising market," says Tian X. Hou, the Internet guru at investment firm C.E. Unterberg, Towbin. She sees the stock, now at 19, hitting 23 in a year. That's her conservative number. She figures the stock could hit 33 if the company achieves its expansion goals. Sohu, she says, is jumping on the new trend in online advertising. It's moving away from traditional portal sites and focusing instead on "vertical" sites that cater to specific markets or products that draw bigger ad dollars. She puts the value of its Web properties at $1 billion to $1.2 billion, compared with its market cap of $600 million. Hou figures Sohu will earn 75 cents a share in 2005 on sales of $107 million, 87 cents in 2006 on $134 million, and $1.07 on $188 million in 2007. She sees the online ad market in China more than quadrupling in the coming five years -- from $294 million in 2005 to $1.3 billion in 2010. Among Sohu's big investors: Tudor Investment, which has a 4% stake, and Barclays Bank, with 2%.
Note: Unless otherwise noted, neither the sources cited in Inside Wall Street nor their firms hold positions in the stocks under discussion. Similarly, they have no investment banking or other financial relationships with them.
By Gene G. Marcial
Before it's here, it's on the Bloomberg Terminal.
LEARN MORE