Liberating Liberty's Value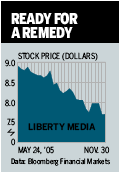 Liberty Media (L ) (L), controlled by cable mogul John Malone, is attracting an eager crowd of value players. They see Malone's plan -- to unlock the value of Liberty's assets by splitting them up -- as a big winner that could lead to a deal with News Corp. Liberty will create a tracking stock called Liberty Interactive, to include its wholly owned shopping network QVC, Liberty's 20% stake in IAC/InterActiveCorp (IACID ), and Expedia. Malone hasn't said when the tracking stock will be launched. Popular in the late 1990s, tracking stocks can free assets that have been submerged in the parent company to appreciate separately. So the split will add to Liberty Media's overall value, figures Steve Rogé of Rogé Partners Fund. Investors who own Liberty stock, now trading at 7.68 a share, will get a proportionate share of the tracking stock. The rest of Liberty's holdings, including its 100%-owned movie channels Starz and Encore, its 17% in News Corp. (NWS ), plus 4% in Time Warner (TWX ), will be lumped together in an entity called Liberty Capital. Rogé believes dividing Liberty Media is a prelude to striking a deal with Rupert Murdoch, who controls News Corp., on Liberty's stake in News. When asked during a recent conference call if he and Murdoch were in talks, Malone replied: "We're talking all the time." Any deal will be a big plus for Liberty, Rogé says. Malone could either sell Liberty Capital to News or merge with it, he says. He puts Liberty's breakup value at 14 a share. "A major deal with News is inevitable," says Ted Henderson of securities firm Stifel, Nicolaus. Michael Kupinski of A.G. Edwards (AGE ) rates Liber-ty a buy, noting it trades below its net asset value of $12.85 a share. A NewsCorp. spokesman didn't return a call for comment.
Note: Unless otherwise noted, neither the sources cited in Inside Wall Street nor their firms hold positions in the stocks under discussion. Similarly, they have no investment banking or other financial relationships with them.
By Gene G. Marcial
Before it's here, it's on the Bloomberg Terminal.
LEARN MORE