U.S.: Tech Is Pumping Life Into Manufacturing
Factory activity will support growth in 2006 as consumers scale back
In an economy growing at a pace close to 4%, perhaps it's not surprising that manufacturing is in a rebound. What may turn heads, though, are the sources of the revival. Makers of advanced technology equipment, almost given up for dead after the bursting of the tech bubble, have been on a tear recently, boosting output, thanks to the gains in capital spending. And exports are stirring to life, animated by better growth prospects around the world, especially since Europe and Japan are finding firmer footing.
Meanwhile, post-hurricane rebuilding, fueled partly by federal money, and still-strong demand overall will boost goods production. Plus, businesses may have been too cautious about managing their inventories this summer. Now stockpiles are skimpy, and the backlog of factory orders has grown rapidly over the past six months.
Given the brighter picture for output, it's no wonder manufacturing executives are growing more upbeat. A survey of chief financial officers in the factory sector done by Bank of America Business Capital (BAC ) showed that 73% of CFOs expect their company's revenues to increase in 2006, with 68% expecting increased export sales and 61% planning to lift prices.
Of course, the factory sector still faces long-run challenges. The recent news from General Motors Corp. (GM ) illustrates that U.S. manufacturers must adapt to the new global economy or risk failure. But in the short run, the strong gains in demand greatly improve the 2006 outlook for manufacturing. That means overall economic growth will remain sturdy next year even if consumers begin to scale back their spending in response to higher heating bills and a cooling off in home prices.
Given that the growth in industrial output is being led by advanced technology, companies still appear to be heeding the productivity imperative. Productivity growth, which is expected to slow next year, is unlikely to collapse as it has in past business upturns. That will limit inflation pressures in 2006 as well as curb the rise in interest rates.
FACTORY OUTPUT is on track to expand by close to 3 1/2% this year, but the pace in recent months has been even faster. Factory production jumped 1.4% in October, lifted partly by a return to operation after the strike at Boeing Co. (BA ) and a rebound from September's post-hurricane depressed levels. But even after adjusting for those events, the strength was broadbased.
The gain was consistent with the generally robust results from the October surveys of industrial activity. And based on regional surveys so far in November, including those from the New York and Philadelphia Federal Reserve districts, November output is also set to score a strong advance.
The steady rise in output has caused companies to start using more of their facilities. In October manufacturers used 79% of their production capacity, close to the long-term average of 79.8%. Excluding the industries where production was still down after the hurricanes, the operating rate exceeded 80%.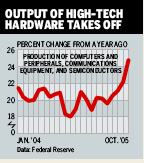 But the real force behind manufacturing production this year is tech equipment. Output of semiconductors, computers, peripherals, and communications equipment has shot up 25% during the past year, the fastest annual clip in nearly five years. So far in 2005, business outlays for information-processing gear have accounted for two-thirds of all equipment spending, up from only one-third in 2004.
Business equipment will continue to lead industrial growth in 2006, according to the latest quarterly forecast from the Manufacturers Alliance/MAPI. The research group expects overall real investment in equipment and software to grow 9.3% in 2006, with outlays for info-processing hardware up 13%, close to the current pace. One possible downside to tech-led growth: It may be contributing to a growing shortage in skilled workers. A study by the National Association of Manufacturers and Deloitte Consulting LLP showed that 81% of the more than 800 U.S. manufacturers surveyed reported moderate to severe skilled worker shortages.
BESIDES THE GREATER DEMAND for tech equipment, manufacturers are also seeing a pickup in orders from foreigners. And that increase should continue into 2006.
Price-adjusted exports increased a solid 7.5% in the year ended in the third quarter. The gain probably would have been larger, but the Boeing strike held down overseas shipments of aircraft. Now that it's over, look for aircraft exports to bounce back in the fourth quarter. Real merchandise exports for the full year should increase close to the 9.1% advance seen in 2004. Demand has picked up for a wide swath of goods, including pharmaceuticals, plastics, specialized industrial machinery, and steel products.
The outlook for exports is improving because global growth is more promising too. The euro zone expanded at an annual rate of 2.4% in the third quarter, its best showing in 1 1/2 years. Third-quarter growth in Japan's real gross domestic product slowed a bit, but domestic spending picked up, boosting the nation's demand for U.S. exports. And Southeast Asia continues to grow like gangbusters.
It's not just the data that signal better prospects. The attitude of central bankers around the world also suggests that economic growth in their regions is picking up -- and that is paving the way for higher interest rates. Policymakers at the European Central Bank already have implied strongly that they are set to begin hiking rates in December. Meanwhile, Bank of Japan officials have ruffled some political feathers by indicating that the BOJ will start moving monetary policy away from its accommodative stance to a more neutral one.
THE RISE IN FOREIGN RATES may reverse some of the recent strengthening in the greenback, making American products cheaper overseas. That's because a narrowing of the spread between U.S. and foreign interest rates will make dollar-denominated assets relatively less attractive.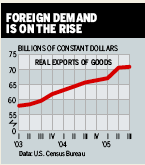 Still, the pickup in exports won't do much to narrow the huge U.S. trade deficit. Higher oil prices alone will push up the import total. Plus, U.S. demand is solid enough to keep other imports flowing in. That means the foreign trade sector will still be a drag on economic growth.
But the latest news on foreign purchases of U.S. securities suggests that foreigners are still more than willing to finance America's trade gap. Net foreign purchases of U.S. securities hit a record $101.9 billion in September, including especially strong demand for U.S. equities and corporate bonds. The capital inflows suggest that any weakening in the dollar will not happen quickly even with the increase in foreign interest rates.
Regardless of the dollar's value, U.S. manufacturers will continue to face unprecedented global competition. That, plus the need to enhance productivity, will keep the pressure on factory revenues and payrolls. But in the short run, at least, recent improvement in the manufacturing sector is one of the best signs that the U.S. economy will maintain its momentum into 2006.
By James C. Cooper & Kathleen Madigan
Before it's here, it's on the Bloomberg Terminal.
LEARN MORE