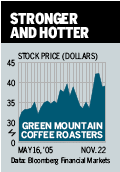 Although coffee is a tough business, investors have awakened to the stock of specialty producer Green Mountain Coffee Roasters (GMCR ) (GMCR). Its shares have boiled from 30 in May to 39 on Nov. 22. The big reason: GMCR's focus on organic coffee for consumers eager for chemical-free food has paid off. On Oct.27, McDonald's (MCD ) signed a pact for GMCR to supply (Paul) Newman's Own Organic coffee to 650 Mickey D eateries in the Northeast (page 16). On that day, GMCR's stock popped from 36 to 42. The stock is still a buy and should hit 52 in a year, says Joseph Phillips of Redwood Technimentals Research, thanks to its solid prospects for long-term growth and increased margins. GMCR produces more than 100 varieties of coffee and sells to supermarkets, convenience stores, and food-service and office distributors. It also sells by mail and online -- its smallest but fastest-growing market. In its recent quarter, direct consumer sales jumped by more than 60% in dollar terms and 70% in pounds shipped. Scott Van Winkle of investment firm Adams Harkness tags its client GMCR a "buy" and calls the McDonald's deal "a huge win." Although he expects the setup will pull in just $5 million to $10 million in 2006, it could ultimately become a "much larger opportunity beyond the 650 restaurants," says Van Winkle. He expects GMCR to earn $1.18 a share on sales of $172 million in calendar 2005 and $1.33 on $212 million in 2006, up from $1.01 on $144 million in 2004.
Note: Unless otherwise noted, neither the sources cited in Inside Wall Street nor their firms hold positions in the stocks under discussion. Similarly, they have no investment banking or other financial relationships with them.
By Gene G. Marcial
Before it's here, it's on the Bloomberg Terminal.
LEARN MORE