Will Interpublic's Woes Last?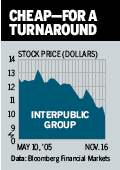 As one of the world's top ad agencies, Interpublic Group (IPG ) counts top corporations as clients -- Microsoft (MSFT ) and Johnson & Johnson (JNJ ) among them. But that hasn't stanched the bleeding at IPG, whose shares tumbled from 13 in June to 9 on Nov. 16. Three years ago they traded at 34. The agency is beset with accounting woes and falling revenues. While new management tries to turn things around, rumors swirl that IPC may have to sell assets. "That's one of two reasons we are buying in," says a New York hedge-fund manager. "The second is we see it as a long-term turn-around." James Peters of Standard & Poor's (MHP ), who recently downgraded the stock from "buy" to "hold," says even if management turns things around, "margin growth will take longer than anticipated." It's possible, he adds, that assets may be sold, but not anytime soon. However, Stewart Barry of ThinkEquity Partners, who rates the stock "accumulate," says new CEO Michael Roth may be "more receptive to selling assets because his background is legal and financial rather than in advertising." Meanwhile, Barry has cut his 2005 revenue forecast from $6.3 billion to $5.9 billion, and EBITDA from $417 million to $13 million. He figures IPG will lose 74 cents a share in 2005. But IPG is cheap, he says, based on his EBITDA estimate for 2007 of $734 million, and profits of 52 cents a share, vs. his 2006 estimate of 5 cents. An IPC spokesman says the best way to enhance shareholder value is to continue to improve financial controls and performance.
Note: Unless otherwise noted, neither the sources cited in Inside Wall Street nor their firms hold positions in the stocks under discussion. Similarly, they have no investment banking or other financial relationships with them.
By Gene G. Marcial
Before it's here, it's on the Bloomberg Terminal.
LEARN MORE