U.S.: The Real Inflation Threat Isn't Energy
Pressures are building because companies are struggling to meet demand
Will lower energy prices add to inflationary pressures? If that sounds a bit counterintuitive for you, consider this: The economy is already growing so rapidly that it is putting pressure on available labor, production capacity, and distribution channels. Recent price declines, including the drop in gasoline prices, mean that the headline inflation numbers will look better in coming months. But cheaper energy bills free up cash that can be spent on other items. A pickup in demand, especially by consumers, will only add to the tight market conditions that tend to foster broadly higher prices.
For now, costlier energy and the potential pass-through of higher fuel bills to other prices remain a key focus of inflation worries. However, energy prices would be much less of a concern for inflation in general if the economy were not so fundamentally robust. Indeed, the biggest danger in the inflation outlook for 2006 is not necessarily the direction of oil prices. It's the economy's persistent tendency to exceed its speed limit.
Even with the past spikes in energy prices as well as the summer's hurricanes, demand continues to grow so fast that the available productive resources can barely keep up. For the past 2 1/2 years, the economy has expanded at an annual rate of 4%, with growth in any one quarter never less than 3.3%. That trend far exceeds the economy's growth limit, generally accepted to be about 3 1/4%. Whatever slack was created by the recession in 2001, it's now either nearly or completely gone.
It is the broad upward pressures on inflation that will be the primary focus of the Federal Reserve and its presumptive new chairman, Ben S. Bernanke, who won near-unanimous support in a Nov. 16 vote of the Senate Banking Committee after his confirmation hearings the day before. Identifying the intensity of those forces and communicating the Fed's policy goals to the markets will be the next chairman's most critical tasks in the coming year.
SO FAR THE PRICE INDEXES show few signs that prices outside of energy are heating up. Consumer prices in October rose 0.2% from September, as did the core index, which excludes energy and food. At the wholesale level, energy pushed producer prices up 0.7% in October, while the core index fell 0.3%, although that fall resulted from a quirky drop in car prices, a reflection more of government statistical methods than sticker prices. Nevertheless, the continued buildup in demand suggests core inflation is more likely to rise than slow in coming months.
How resilient is demand? Just consider how little an impact Hurricane Katrina and the related spike in energy prices had on consumer spending. If anything, the more dramatic shift in demand has come from the boom-bust pattern associated with the timing of the auto industry's "employee discount pricing" plans.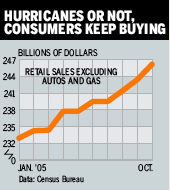 According to the Commerce Dept., October retail sales slipped 0.1% from September. But excluding the slump in the month's car buying after the pricing program ended, retail receipts jumped a strong 0.9%. That gain would have been higher but for the dip in gasoline prices, which dragged down receipts at gas stations. Commerce also said retail buying in both August and September were a bit higher than its earlier estimates.
Further gains may be on the way, thanks to cheaper energy. Average gas prices are down 25% from their post-Katrina high, to $2.30 per gallon on Nov. 14. And based on the current trend in wholesale prices, pump prices could approach $2 by yearend. Using Commerce data, a 25% drop in gas prices over three months adds some $80 billion, at an annual rate, to household purchasing power, which can go to other things. Any further declines in gas prices mean even more money to spend.
Little wonder then that some retailers are expressing a bit more confidence about yearend shopping. For example, Wal-Mart Stores Inc. (WMT ) expects its November same-store sales to be 3% to 5% higher than sales a year earlier. And company officials expressed optimism about holiday and post-holiday revenues, citing the recent declines in gas prices.
OF COURSE, STRONG SPENDING by itself doesn't automatically generate pressure on prices. Increasing constraints on the supply chain are the key link between current economic growth and the inflation outlook. And as any student of Econ 101 knows, too much demand chasing not enough supply can trigger higher prices.
The Fed's latest revisions to industrial production and capacity show companies are using more available capacity than previously thought. The operating rate in manufacturing averaged 78.2% in the third quarter, a half-percentage point above what last month's data showed, and factory activity remains strong.
The tightness on the production side is also evident in how long it takes for supplies and merchandise to reach businesses. According to the Institute for Supply Management, delivery times in October were the longest in more than a year. And the jump in delivery times over the past two months was the biggest in 26 years.
No wonder businesses have had to use their inventories to meet growing demand. Real business stockpiles fell in both the second and third quarters, the first back-to-back declines since the economy came out of the 2001 recession. Some of last quarter's liquidation was in autos, and car companies are already boosting their production this quarter to meet the demand generated by a new round of sales incentives. Overall, September inventories held by manufacturers, wholesalers, and retailers rose 0.5%, even as sales rose faster. After stabilizing in 2004 and early 2005, the ratio of inventories to sales is falling again.
IF CONTINUED, these supply trends are warning signals about inflation. Production bottlenecks, delivery delays, and a short supply of goods on hand create a situation where businesses have an easier time raising their prices.
And it's not just merchandise that is in short supply. Companies also report greater difficulty in finding workers with certain skills. The jobless rate slipped back to 5% last month, and tighter labor markets may be beginning to push up pay. The average hourly wage for production workers grew at an annual rate of 3.4% in the six months through October, the fastest such pace in 21/2 years.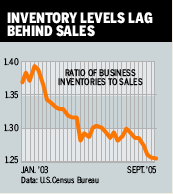 One critical question is whether productivity gains will offset the pickup in pay. So far, greater efficiency is still restraining the rise in unit labor costs. But productivity is slowing, threatening to loosen those reins. Higher labor costs will give companies another reason to try raising prices to protect their bottom lines. That strategy may already be in play if the surprisingly strong performance of third-quarter profits is any guide.
Unless the economy slows in the first half of 2006 to a pace that will relieve some of the stress on businesses' ability to meet demand, then inflation pressures will keep building even if energy prices continue to fall. More important, cheaper energy, by itself, will not be the key to the Fed's decisions on interest rates next year.
By James C. Cooper & Kathleen Madigan
Before it's here, it's on the Bloomberg Terminal.
LEARN MORE