The Shape Of Things To Come
Architect Jan Kaplicky on Europe's new keenness for exciting solutions to building designs
"Where is it written that buildings have to be boxes?" asks Czech-born architect Jan Kaplicky, founder and partner of the London-based practice Future Systems. "People aren't boxes." Such wry, understated observations are typical Kaplicky style, but at the same time his statements plainly lay down his passionate and radical ideas about the places in which we live and work. After 21 years of running Future Systems with partner Amanda Levete, it seems Britain, and the rest of Europe, are starting to listen to him.
If you've seen a Future Systems building, you won't have forgotten it. Lord's Cricket Ground Media Centre, Selfridges in Birmingham, the "floating" bridge linking West India Quay to Canary Wharf, and the Comme des Garçons boutique in New York are a few choice examples. Soon, the Maserati museum in Modena and a subway station in Naples will join them. The most obvious Future Systems trademark is that its buildings are without corners. Classrooms, department stores, houses and underground stations all appear to undulate within their bulbous, amorphous walls. Such buildings might seem counter-intuitive and definitely feel a little sci-fi. But Kaplicky denies there's anything completely new or technologically advanced about Future Systems architecture.
"There's no high technology in architecture," he says. Everything is simple: "There are no new materials, either. People use materials in innovative ways and there are fashions for different materials, butit's still the same stuff which the Egyptians or Romans used. Someone can certainly use a piece of glass or cotton in a fantastic way -- many people do -- but it's still fulfilling the same function by wrapping the body of the building."
A signature wrapping used in Future Systems projects (most notably the Lord's Media Centre) has been to import boat-building materials and techniques to create buildings which are monocoque structures. Most commonly aircraft or boats, monocoque structures are ones where the skin of a building absorbs all the environmental stresses. Whether you call that truly radical or merely a novel use of materials, Kaplicky, Levete and their colleagues are thinking outside traditional building boxes -- both metaphorically and literally.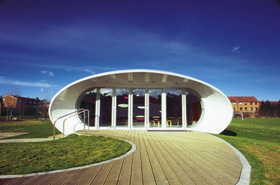 Kaplicky first arrived in London in 1968, when Russia invaded his home country of Czechoslovakia. "I did want to be in London. Even then, the city was an important place to be architecturally. But escaping evil was the imminent cause of my move," he explains. Kaplicky set his forward-thinking agenda from the start, working with both Richard Rogers (on the Pompidou Centre) and Norman Foster in the early days of their practices. "At that time, neither Rogers nor Foster were very established. Rogers' practice consisted of six people, Foster's maybe of 20. But there was an amazing spirit in both places. Before they arrived on the scene, Britain was madly isolated from Europe in terms of architecture. They introduced new ideas and generated more widespread interest."
Kaplicky left his British colleagues to set up his own practice, Future Systems, in 1979. Amanda Levete came on board as a partner in 1989. Early commissions were few and far between. Those that did come -- for example, a contract from NASA to build a space station wardrobe table -- proved that it was clients with an eye on the future who were in step with Future Systems' own company philosophy to realise paths not yet travelled.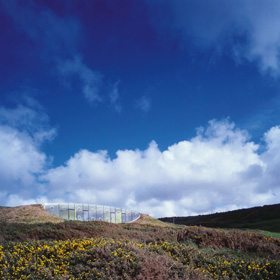 It was a frustrating 15 years after Future Systems' inception that the company was commissioned to build the new media centre at Lord's Cricket Ground. The proposal for a Blake's Seven-style, floating capsule to house the droll commentating talents of Richie Benaud raised a few establishment eyebrows. Did Kaplicky find it odd that such a seemingly stuffy British institution was the first client to invest in his vision? "Lord's may be a traditional place," argues Kaplicky, "but new ideas always depend on the personalities behind the places. Almost every good building has one particular individual behind it. Design by commission is rubbish."
Lord's Media Centre silenced any dissenters when it won the coveted annual RIBA Stirling Prize for architecture in 1999, encouraging other imaginatively ambitious clients to work with Future Systems. When the then Selfridges Chief Executive Vittorio Radice dreamed of his new Birmingham store building doing for the rundown industrial city what Frank Gehry's Guggenheim museum had done for Bilbao, he hired Future Systems to build the vision. The organic curves covered in blue-silver discs that resemble a fly's eye have proved to be a celebrated city landmark.
The next Future Systems vision to arrive in Europe will be a subway station commissioned by the City of Naples. The project (the drawings for which make the subway entrances look like giant inflatable sausages) is a collaboration with sculptor Anish Kapoor. When asked what such collaborations can bring to a building, Kaplicky answers simply: "It makes it more artistic. We're both equally interested in form though, so it's a natural collaboration." Kapoor says of the subway that, "We want to acknowledge that it is underground -- a journey into the world of Dante. Rather than light at the end of the cave, it's a journey back into the cave. And if one acknowledges this, then maybe the experience of passage, of moving through, of travelling, can also be one of art."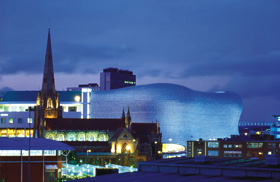 It's not the first time Future Systems has worked with Kapoor. The company lent engineering support for his gigantic red installation at the Tate Modern, and the pairing also produced a proposal for the Princess Diana Memorial Fountain in London's Hyde Park, which only narrowly missed being chosen as the winning pitch. Kaplicky says it was "palace intervention" which prevented his plans from coming to fruition.
Both Prince Charles' traditional views on architecture and the fact that the modern British public listen to him dismay Kaplicky. But he understands why. "Britain had a very fragile line of modern movement. That is why someone like Prince Charles can occasionally gain ground in debates on architecture in the UK." One of the first big London projects that Kaplicky worked on was the National Theatre, which Prince Charles unflatteringly described at the time as "a clever way of building a nuclear power station in the middle of London without anyone objecting."
Kaplicky's long-running antagonisms with Prince Charles signify a wider rift -- between the city of London, with its reputation as a multi-cultural creative hub, and the country of Britain itself, which is much more narrow-minded than its capital and not willing to provide the vision to support exciting imaginations. In this respect, it is interesting that Kaplicky aligns himself more readily with fashion designers than fellow architects, with his references to "freedom of expression" and "creative processes", and that the cream of British fashion design talent has left its own under-funded shores to flourish elsewhere in Europe and America.
Britain must count itself lucky that Kaplicky has persevered in thiscountry with Future Systems, although his opinion of British talent is substantially higher than that of its Royal Family. "Britain teaches and has generated very creative talent. This country has some of the best architectural schools in the world, and there are plenty of visionaries who are based here."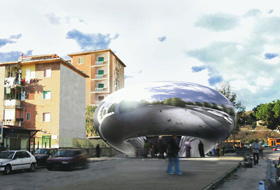 But it is possible that HRH and Future Systems have some views in common, too. One of Future Systems' biggest concerns is the environmental sustainability of buildings. "Sustainability will become an increasingly important issue to everyone," states Kaplicky. "But the British government is one of the less developed European countries when it comes to these issues. Resistance to wind generators is ludicrous. It is led by people who don't have a clue. It's a top issue, so why doesn't the government design totally green buildings? There's not a single green bus in London. In Paris, Vienna, Florence, they use gas-powered buses. There's no legislation to build green here. All three parties never mentioned a single sentence about green issues in their manifestos at the last general election. The same applies to culture. Here, culture is not political."
With so many wise and impassioned views, it's a shame we don't hear more of Kaplicky or other architects outside their professional circles. Kaplicky believes Britain's view of its architects as belonging to a wider society has prevented greater architectural vision taking shape in Britain. "It's more difficult to be radical, as architects don't have a social status here. You don't find them in the pages of Tatler, for example. They're thought of as similar to estate agents."
Kaplicky thinks European integration has gone some way to help reverse this situation. Certainly, the bright sparks of Future Systems' buildings lighting up both the British and European landscapes are signs of a willingness to explore more imaginative solutions to our current building quandries. Perhaps architectural movers and shakers don't have to be in the public eye, after all. As Kaplicky himself says, "Some revolutions are secret." Enquiries: www.future-systems.com
By Maria Paggetti
Before it's here, it's on the Bloomberg Terminal.
LEARN MORE