New Arrivals
St Tropez? Passé. Ibiza? So over. The hottest spots for bars and clubs in Europe right now are not where you'd expect
Beirut
Vibrant Beirut was at one time the Paris of the Middle East, a magnet for nightclubbing hedonists from East and West. A long civil war tarnished its cosmopolitan character yet, in the 15 years since the ceasefire, Beirut has rebuilt its reputation forfun in the sun. The bustling playground ofthe Levant is swinging harder than ever, alive with alfresco cafes, designer shops, exclusive beach clubs and all-night clubs.
The best place to start a long, heady night is around the pool of the swanky open-air Sky Bar at the top of the Palm Beach Hotel (Ain el-Mreisseh; +961 (0) 1 369 113), which offers cocktails, DJs playing loungey sounds, and magnificent views across the Med.
Stunning Lebanese girls, flashy local celebrities and monied businessmen then move on to Zinc (37 Seifeddine el-Khatib Street; +961(0) 1 612 612), a classy, dimly lit restaurant and bar in a French colonial villa that was taken and retaken so many times during the war that it was eventually nicknamed the "Bitch of Beirut".
After midnight, revellers head to Monot Street, a hilly road lined with bars and clubs that lies beside the infamous Green Line, which once divided Christian East Beirut fromthe Muslim West. Here, the party continues at a knowingly war-themed bar called 1975 (Monot Street; +961 (0) 3 323 700), named after the year that the fighting kicked off. Inside, mortar shells stand on the bar, fake sandbags are piled up in the windows, and the waiters wear fatigues and combat helmets, while your drinks are served in old ammunition boxes.
Near to Monot Street is the plush and baroque Crystal (243 Monot Street; +961 (0) 1 332 523), Beirut's largest and flashiest club. Dressing up is positively encouraged here. Whenever a punter buys one of the €2,500, nine-litre bottles of Moët & Chandon, the music stops, a spotlightis beamed onto themand an anthem is played as two waiters carry over their order.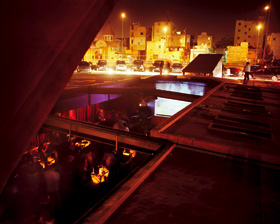 The late-night partying continues until 7am at the legendary BO18 (Lot 317, La Quarantaine; +961 (0) 3 800 018), a rather eerie underground bunker that looks like a cross between a bomb shelter and a mausoleum. The club has a domed roof that retracts to allow the ravers to dance to house and techno under the warm, starry sky.
Lisbon
The fun and friendly Portuguese capital has undergone a quiet renaissance in the past few years, transforming itself from a charming backwater into one of Europe's most vibrant cities. Lisbon has elegant avenues, soulful fado music, clanking yellow trams and nearby beaches, and now boasts a great-value, all-night party vibe that puts Barcelona and Madrid to shame.
Cool and casual locals, flashy African dudes, beautiful Brazilian girls and super-smart Euro-weekenders kick off long evenings in the busy bars of the historic Barrio Alto area, then head out to the redeveloped Docas district for offbeat clubs located in converted dockside warehouses.
Hippest stop-off is the Alcântara Café (15 Rua Maria Luisa Holstein;+351 (0)21 363 7176;www.alcantaracafe.com), a bar and restaurant in a capacious former printing works. Decorated with ruby velvet drapes, sweeping ceiling fans, oversized mirrors and a glam Art Deco flourish, the industrially chic Alcâ ntara has a vast, high-ceilinged dining room, a bar serving the best caipirinhas in the city and a dancefloor playing house and electronica (check out the club's eponymous CD for a preview).
The hip crowd then dance all night at Lux (Avenida Infante D Henrique; +351 (0)21 882 0890; www.luxfragil.com), a club in a labyrinthine riverside warehouse complex part-owned by John Malkovich. Lux's main dance floor hosts superstar DJs such as St Germain and Dorfmeister. A large retro-styled upstairs bar has balconies, chill-out zones, Sixties sofas and video projections. There's also a rooftop terrace. Next day, clubbers siesta in the sun on the beaches at Estoril and Cascais, a short train ride away.
Berlin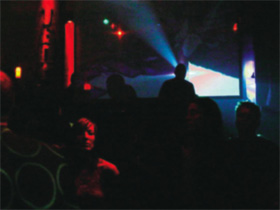 Not since the decadent Thirties has Berlin's nightlife burned so brightly. The city's vibrant club scene blossomed out of the derelict buildings of the former East Berlin back in the early Nineties and has been thriving since. The Euro-home of a certain renegade edge and freeform kookiness, boomtown Berlin's bar and club scene has never been hotter, especially among the artist, designer and fashion crowds.
Clubbers meet early evening at White Trash (201 Torstrasse), an old Chinese restaurant crossed with a Tex-Mex cowboy diner, where bohemian types mingle with transvestites and biker gangs (the owner is a motorcycle-riding, tattooed American). They move on to Greenwich (5 Gipsstrasse, Mitte; +49 (0)30 2809 5566), a laidback cocktail bar decorated with cowhide panels and illuminated fish tanks framed with lime-coloured leather, or Universum Lounge (153 Kurfürstendamm; +49 (0)30 8906 4995), a glam former Bauhaus cinema with sleek, space-age furnishings and gold lunar-landscape wallpaper.
All-night ravers then head for the emergency services-themed Ambulance Bar (27 Oranienburger Strasse, Mitte), a lounge-style DJ bar, or Dangerous Drums (www.dangerous-drums.de), a roaming techno and breakbeats night found at the Pfefferbank club (176 Schönhauser Allee).
Very late (after 8am), dedicated revellers drop into the infamous KitKatClub (2-14 Bessemerstrasse), a leather-and-chains SM nightclub that hosts a hip after-hours party, and then finally on to Cafe Einstein (5 Kurfurstenstrasse; +49 (0)30 261 5096), a historic Viennese-style coffee house that serves all-day breakfasts.
Moscow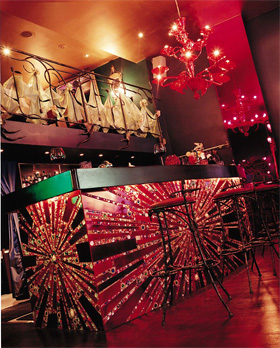 Fifteen years of the Russian free market revolution has created a sybaritic and super-rich class of New Muscovites with an unbridled passion for partying and the high life. Moscow's nightlife scene buzzes with nouveaux riches young millionaires, gorgeous Russian society girls and louche Euro jet-setters. This hot entrepreneurial city overflows with Bentleys, Prada, caviar, Champagne and ice-cold Stoli.
The in-crowd mingle at the "eclectically baroque and decadently maximalist" bar and restaurant Milk &Honey (38 Ulitsa Myasnitskaya; +7 (0) 095 928 9947). The colourful and kitsch interior is a playful riot of Victorian antiques, red velvet curtains, crystal chandeliers and gilt-edged mirrors. Vodka shots and Champagne -- either vintage Moët or Cristal Rosé, by the magnum of course -- are de rigueur in the downstairs bar, where on any given night the fashion-conscious rub shoulders with Russia's artists and thinkers and the place buzzes with conversation.
Drinkers stay to eat in the restaurant, serving delicious French food from chef Charles Lefebre, before party people move on to the ostentatious and staggeringly expensive new VIP venue Osen (3 Teatralny Proyezd; +7 (0)095 921 9888), or to Cabaret (8a Strastnoi Bulvar; +7 (0)095 789 8315), a club designed by the team behind Caves du Roy in St Tropez. But be warned -- both clubs practise Moscow's infamous "face control" door policy.
Serious ravers finish with breakfast at Mix (11 Novinsky Bulvar; +7 (0)095 255 4333), a favourite after-hours club that stays open until the very last punter decides to leave -- often as late as 3pm the following afternoon.
By Philip Watson
Before it's here, it's on the Bloomberg Terminal.
LEARN MORE