Cover Story: Clever Clooney
George Clooney is Hollywood's all-rounder: actor, director, producer, writer, wit, prankster, man's man, woman's man, with a well-developed political conscience. Is there no end to his talent?
Forget about his status as Hollywood's most coveted bachelor, or Nicole Kidman and Michelle Pfeiffer famously betting €15,000 each on him being married with a child by 40. Try not to think of Max, the 150-pound pot-bellied pig he lives with in his rambling Los Angeles mansion and who, as a piglet, used to travel in motorcycle side bags. Or the fact that his late aunt was the singer and actress Rosemary Clooney. It's not even important that he auditioned five times for the role of JD in Ridley Scott's Thelma & Louise, eventually losing out to his good friend Brad Pitt.
The thing about George Clooney is that he's funny. There's often too much talk of his smouldering good looks, of the casually cropped hair he still, occasionally, cuts himself. Of his some-time standing as a singleton, of his ex-wife Talia Balsam (he was married to the actress bet ween 1989 and 1993) or his relationships with model Lisa Snowdon and actress Krista Allen. Because he is an articulate actor, director and producer, who not only speaks in perfectly formed paragraphs, but is also witty and a prankster. Of The Perfect Storm, which grossed more than €265 million, he said with an arched eye brow when it opened: "The truth is, this movie is about a wave."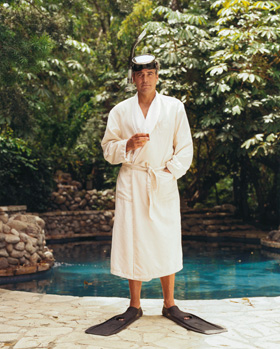 He constantly plays tricks on his close male friends -- the buddies he goes on motorbike tours with, who spend weekends in his LA home or who fly to Italy to hang out at his 15-bedroom Lake Como villa, bringing their families along or borrowing spare rooms between relationships. There are stories of pornographic answer machine messages, of constipated cats being fed laxatives. When promoting Ocean's Eleven, Clooney arrived at an Italian airport and deflected attention away from himself by shouting, "Hey, guys -- Brad Pitt!!", then watched as his co-star was forced to run through the airport, while he sauntered off.
If he's a funny guy, 44-year-old George Clooney is also capable of being unusually serious for an internationally successful Hollywood star. It is rare for someone in his position to be so bold as to speak his mind on Bush, the war in Iraq and politics in general, especially in America's current McCarthy-esque climate. Perhaps it's in his blood -- he was brought up in Lexington, Kentucky by his Democrat parents and his father ran for Congress at the last election.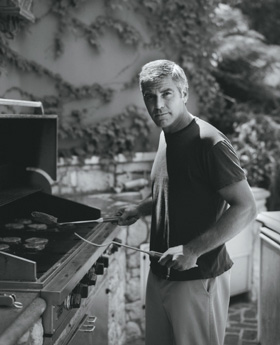 In the October 2005 issue of Interview magazine, Clooney talked about the qualities of being a liberal. "I keep going back to all the great social events in our country's history, starting with the Salem witch trials, where the conservative view was that they're witches and should be burned at the stake, and the liberal view was that there's no such thing as witches... We thought Vietnam was wrong... Bush did a very smart thing after 9/11. He didn't say, `You're either with us or against us.' He came out and said, `Either you are with us, or you are with the terrorists.' Which is a remarkable statement."
Questioning the war in Iraq has, of course, irritated the right-wing American press. One tabloid labelled Clooney and fellow liberal Sean Penn traitors, while a Fox News anchorman suggested Clooney's political views signalled an end to his career. Clooney told Interview how he phoned his dad and asked if he was really in trouble. His father, a former television newsman, replied: "Shut up. Grow up. You can take it. Have you lost your house? Are you hungry? Has anyone taken anything away?" If he made political statements, he had to take the criticism.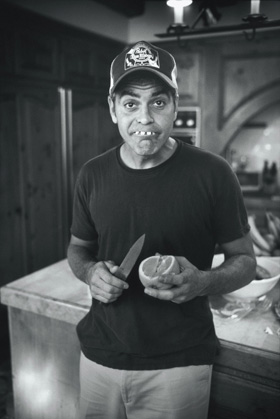 Clooney's latest film, Good Night, and Good Luck, is a statement in itself. It follows the exploits of CBS newsman and See It Now host Edward R Murrow who, with his producers, took on Joseph McCartney, the Senator determined to expose communist sympathisers in Fifties America. It is the second time Clooney has directed -- the first being Confessions of a Dangerous Mind in 2002 -- and is a perfect vehicle for the son of a newsman set on questioning his values and those of his country. He also wrote the screenplay for the film and appears in front of the camera, as Fred Friendly, one of Murrow's producers. When it screened at the Venice International Film Festival, the The Hollywood Reporter wrote: "[The film] lovingly recreates the studios and backrooms of Fifties New York journalism at the CBS television network, where the men wore white shirts and dark suits, the women fetched the coffee and the morning papers and everyone smoked all the time."
It's an ambitious project (shot in black and white), but for all that, Clooney is the consummate nice guy. He is also a tough businessman. While he's famous for playing basketball with the crew on film sets and he once embarrassed the producers on ER into letting everyone eat lunch together, rather than separating the actors, directors and producers from the crew, he's certainly no soft touch. He told the Los Angeles Times in 1996, "When you've failed enough, you learn how to be good at business. I'm probably better at the business side than I am at acting." At that point, Clooney had yet to break through to film after his success as Dr Ross on ER, had yet to be coolly seductive in Out of Sight, uncompromising in Three Kings, silly in O Brother, Where Art Thou? or to mine blockbuster territory with The Perfect Storm and Oceans's Eleven. But, even as an actor who commands around €15 million per movie, Clooney is still an acute businessman.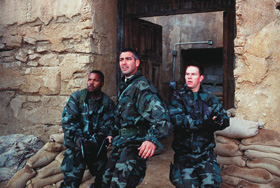 In 2000, he formed a production company with director Steven Soderberg (the pair first worked together in Out of Sight) and, to date, Section Eight has produced the very strange Solaris, Ocean's Eleven and Twelve (directed by Soderberg, co-starring Clooney) and Confessions of a Dangerous Mind. Both Solaris and Confessions were disastrous critically and commercially, but Clooney didn't seem to care: "Ultimately, how much money do you need?" And Section Eight is willing to take risks with commercially unproven directors -- Todd Hayne's Far from Heaven and Christopher Nolan's Insomnia proved to be exciting, interesting films.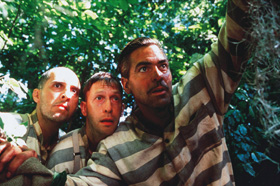 Despite his dedication to acting, directing, screenwriting and producing, Clooney remains restless. He recently decided to take on a fifth commitment by joining a property development syndicate with Brad Pitt, Matt Damon and Rande Gerber, hotel and nightclub impresario and husband of Cindy Crawford. Designed by Philippe Starck, Las Ramblas, a €4.5 billion project, will be a world-class hotel, condominium and casino complex. Clooney, who will have creative and financial input in the project, will donate 25 percent of the profits from his investment to the Make Poverty History campaign.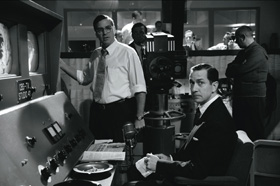 Clooney is a self-confessed workaholic. He told The Observer in 2002 that he doesn't have time for marriage and still thinks he doesn't want kids (Nicole Kidman actually sent him the €15,000 cheque on his 40th birthday; he returned it, offering double or quits on his 50th). He explained how he feels: there's only a limited window for getting things done, for making films, for working. He thought his parents may have influenced him. "When I was young, he [Clooney's father] worked five full-time jobs at once. There's a great photograph of him from that time with his fingers in five pies."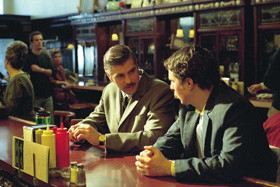 There is no break in sight for George Clooney. Section Eight alone has eight film and television projects awaiting release. He may enjoy being a movie star, but he also loves being the normal guy. Perhaps he is happiest being a kind of everyman actor. "What happens when you're famous is that you'll come into a bar and it's really fun and exciting, and a guy comes over and says, `Mr Clooney, come with us,' and they take you into a private room in the back," Clooney told Playboy in 2000.
"You're thinking, What the f*** am I doing here? So you have to fight it as much as you can. It's possible to be a guy with your friends. You get on your motorcycles, you head out on the road. It's as good as it gets."
By Amy Raphael
Before it's here, it's on the Bloomberg Terminal.
LEARN MORE