Agenda_Drink
When it comes to Champagne, drink the best and you can't go wrong
The irrepressible Tom Waits summed up the social element of Champagne perfectly when he raised the following toast: "Champagne for my real friends," he said, "and real pain for my sham friends." Given that it's difficult to tell the difference these days, we can't all be quite as certain or as prescriptive -- which is why it's more important than ever to make sure you're serving the "right" Champagne.
Of course, what exactly the "right" Champagne is should be up for major discussion. If you take Cristal, for example, it may be all the rage with rappers and its profile is riding high, but that doesn't necessarily mean it's fashionable anymore. Conversely, Moët & Chandon has always been a staple of the music and rock scene, so much so that it has even had a little dittywritten about its omnipresence on therider request sheet of every self-respecting Spandex-clad rock god: "No Moët, no show-et, No Chandon, no band-on" is how it elegantly goes.
Should you be drinking Veuve Clicquot just because it's reputed to be Jack Nicholson's favourite non-vintage, or is Bollinger better because Bond is the man to be these days? 50 Cent's favourite Champagne is Taittinger Comtes de Champagne -- which shows that he has farmore discerning taste than many of his fellow rappers.
The truth is, of course, that the only firmfashion for Champagne drinking is straightforward: drink the best and you can't go wrong. Nowhere is this more apparent than in the case of non-vintage Champagnes. The question is, what is the best when it comes to non-vintage Champagne? Should you go for Billy, Bolly, Moët or Jouet? Pink or white?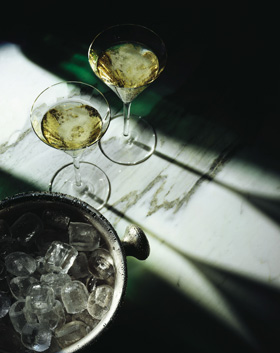 The answer to the latter is definitely pink. Rosé is the hot ticket at the moment and any party that doesn't feature pink bubbly is actually not much of a party at all. The best on the market is still Laurent-Perrier Rosé Non-Vintage, thanks to its fabulously creamy nature and wonderful raspberry tinges. Others that are worth a pop include Moët & Chandon's Rosé NV and Perrier-Jouët's.
If it's straight-talking, straight-walking "blanc" you're after, then there's a whole world of decent bubbles waiting for you out there. Without a doubt, Bollinger is still top of the pile for me, with its rich, bready fruit flavours. Krug does a pretty good job to my mind, though, at the price, it's a prestige cuvée rather than a pure non-vintage, so doesn't really count. Veuve-Clicquot is still tasting wonderful, especially when you're at the races and losing your money very fast. And Louis Roederer is consistent and as deliciously decadent as ever.
However, for me, one of the best non-vintage fizzes at the moment is one that very few people know about. It's from a relatively small house called Gosset -- one of the oldest producers in Champagne. Their basic non-vintage is great, but their star performer is their Grande Réserve: it knocks the spots off most competitors at 50 paces with its wonderfully zippy lemon fruit and toasty brioche undertones. As we all know these days, there's nothing more in demand as something the rest of the world has yet to discover. And this is it.
RECOMMENDED NON-VINTAGE FIZZ
BOLLINGER SPECIAL CUVEE NV
(€48, Oddbins) Top of the pile of blancs, with its rich, complex, bready flavours
LAURENT-PERRIER ROSE NV
(€58, Oddbins) Fabulously creamy with raspberry tinges. Made entirely from Pinot Noir from vineyard sites rated 100% Grand Cru Classé
MOET & CHANDON BRUT IMPERIAL NV
(€34, Berry Bros & Rudd) The world's best-selling non-vintage Champagne presents stylish and pleasing notes of green apples and citrus fruits
GOSSET GRAND RESERVE
(€48, Berry Bros & Rudd) From the oldest house in Champagne, this has a delicious, biscuity palate with an assertive finish
By Chris Orr
Before it's here, it's on the Bloomberg Terminal.
LEARN MORE