Will Women Jump at Exergames?
Reena Jana
There's been a lot of buzz about women and casual games -- 75% of those playing puzzles and poker online at MSN Games, for example, are female. But only recently are developers exploring how to lure female audiences into using and purchasing games for consoles -- Microsoft's (MSFT) new Xbox 360, Nintendo's GameCube, or Sony's (SNE) PlayStation2.
Developers know that 37% of all video and computer games are purchased by women, according to statistics from the Entertainment Software Assn. What's less clear is whether they are buying those for themselves or for the males in their lives. So game makers are creating new genres and developing novel marketing strategies to ensure it's the former.
And the strategy that many developers are pursuing involves the new genre of "exergames" or "exertainment," hybrids between instructional workout DVDs and immersive game environments, often featuring female characters. Case in point: Eyetoy: Kinetic, the workout game for the PlayStation 2 console that Sony Computer Entertainment America released this week.
GAMERS IN THE GAME.
  "So much of our target audience for this is women," says EyeToy: Kinetic producer Ryan Hamlyn. In the game, players follow two computer-generated trainers, one female and one male, through a variety of exercises onscreen. "A by-product is that they'll experience firsthand the PlayStation2 console that's already in the house, previously used by their husbands, brothers, or male friends only. They might cross over to other games and become dedicated users."
One innovative design feature that EyeToy: Kinetic's designers hope will distinguish the product from any other video game -- "exertainment" or not -- is its unprecedented level of physical interactivity. EyeToy: Kinetic is the only console game currently on the market that allows players to insert full-body, live footage of themselves, via the Sony EyeToy camera (a USB addition that was first released two years ago), onto their screens and into the game's environment without an avatar.
This design aspect distinguishes EyeToy: Kinetic from earlier EyeToy games or titles that require use of a device like a footpad that allows players to control an on-screen character with their own body movements, like the popular title Dance Dance Revolution. EyeToy: Kinetic marks the debut of a new large-lens addition to the camera, packaged with the game, that registers a player's actual physique, from head to toe, onscreen.

Screenshot from Sony's EyeToy: Kinetic
SOFT PALETTE.
  Existing games designed for use with EyeToy could previously only accommodate half of a user's body onscreen. According to Tomas Gillo, senior producer at Sony Computer Entertainment Europe, which collaborated with the game's designers, the full-vision lens was developed while the design team was figuring out how to best allow EyeToy: Kinetic players to monitor their positioning during exercises (all fitness routines were formulated by trainers at Nike Motionworks).
The game offers various workouts, ranging from the "combat" mode, in which players watch themselves kick-box computer-generated falling objects, to the more mellow "toning" and "yoga" modes, in which they do sit-ups or downward-dog positions beside their virtual trainer. The game is designed so that players engage in a 12-week-long fitness program that gets more challenging over time and can be saved on a memory card, just as Halo players save games as they progress to higher levels.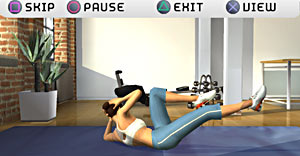 A virtual fitness trainer, from Sony's EyeToy: Kinetic
The virtual trainers move through an elegant, 3-D digital environment that resembles a modernist loft, with pale walls, exposed brick and stylish minimalist furniture. To make the game attractive to female players, Sony's game designers "very consciously chose iconography and colors that would be inclusive for women," says Hamlyn. "The palette is soft, and nothing is bright and in your face."
WAVING THEIR ARMS.
  The designers wanted the virtual trainers to be accessible and in no way intimidating or alienating to female players, and Gillo says they did "extensive focus group testing" to develop the characters' look. Unlike the exaggeratedly voluptuous Lara Croft, for example, "the woman's appearance is realistic and normal," says Hamlyn, "and the man isn't a drill sergeant." Even though they're not cartoonish, the trainers' physiques are still idealized, though: the female character vaguely resembles a less-buxom version of the actress Elizabeth Hurley, and the male trainer, while not overly chiseled, could easily be described as "tall, dark, and handsome."
Although the designers were very conscious of attracting a female audience, says Hamlyn, they didn't want to alienate men, just as gyms don't turn away men who want to enroll in an aerobics or Pilates class that's primarily filled with women.
As with all EyeToy games, players don't use standard game controls, but instead wave their arms to choose options, physically selecting buttons on the screen, à la Tom Cruise in the sci-fi movie Minority Report. "This feature might appeal to women not yet familiar with the PlayStation 2's controls or a joystick and introduce them to the console," says Jeff Reese, a senior marketing manager at Sony.
COURTING FEMALE BUYERS.
  EyeToy: Kinetic isn't the only fitness-related console game available. The most high-profile example is Dance Dance Revolution, published by Redwood City (Calif.)-based Konami Digital Entertainment. Based on an arcade game, DDR has sold more than 2.5 million console versions since its North American release in 2001.
It requires players to stomp on an electronic footpad that translates players' actions into those performed by animated characters onscreen. And there's a Sony EyeToy version that allows users to insert video of a player's upper torso, but not full body, onto the screen. Although widely considered more of a teen and children's competitive dance game than a women's fitness product, the console version of DDR features an optional "workout mode" that allows players to track calories expended and other fitness data.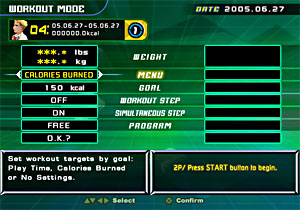 Dance Dance Revolution's "Workout" mode data window
A more direct competitor to EyeToy: Kinetic, with its target female audience, is Yourself!Fitness, a multiplatform game by Portland (Ore.)-based developer ResponDESIGN. It features a slim-limbed, computer-generated fitness trainer named Maya, who leads users through a series of on-screen exercises. While the game allows players to track their fitness progress, there's no interactive component onscreen.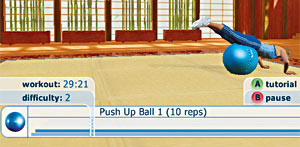 Maya, a virtual trainer, demonstrating exercises in ResponDESIGN's Yourself!Fitnessgame
IMAGINATIVE TECHNIQUES.
  Some elements of traditional video-game play are incorporated, though. For example, after reaching a certain fitness goal, the player can add new background music as a reward. The 2006 version (to be released late next year), says ResponDESIGN CEO Phineas Barnes, will include trendy Pilates workouts and other fresh routines. To date, Yourself!Fitness has sold 100,000 copies across all platforms.
An earlier version of Sony's EyeToy: Kinetic was released in Britain and Australia in late September and sold 330,000 copies in its first six weeks on the market, already outpacing Yourself!Fitness's yearlong sales threefold before hitting U.S. shores.
Will designing fitness-themed titles for a non-gamer, female audience pay off? Sales figures for workout videos (both DVD and VHS) provide a clue to the market potential of EyeToy: Kinetic and future "exertainment" console games. According to Home Media Research, 2004 fitness video sales totaled $174 million. While that figure is dwarfed by the $7.3 billion sales of video and computer games in 2004 (as tracked by the NPD Group), design strategies like those implemented in Sony's EyeToy: Kinetic suggest an imaginative way of introducing new female audiences to console games.
 READER COMMENTS
Before it's here, it's on the Bloomberg Terminal.
LEARN MORE