Stronger job markets during the past two years go a long way in explaining why American consumers have held up so well under the burden of costlier energy. That's why the Labor Dept.'s October employment report, which showed a surprisingly weak 56,000 increase in payrolls, raises serious questions about consumers' ability to keep powering the economy ahead into 2006.
So is this four-year business upswing in any danger? Based on a full reading of the available data, it is way too early to assume the worst for either the labor markets or consumers. Other labor market indicators suggest that the October softness in payrolls will prove temporary. Also, gasoline prices are down sharply from their post-hurricane peaks. Chain-store retailers reported brisk buying activity in October. Capital-goods orders, output, and employment are growing strongly, suggesting that businesses remain eager to expand their operations. And the manufacturing sector is especially lively.
To be sure, consumers will get a stress test over the next few quarters, and their contribution to overall growth in 2006 will most likely slip a notch. On the heels of Hurricane Katrina and sky-high gasoline prices come winter fuel bills, higher mortgage rates and borrowing costs, and a likely slowdown in home prices that will curtail the flow of cash from refinancing activity. All of this has slammed household confidence, and consumer spending in this quarter will look shaky compared with the solid 3.9% advance in third-quarter outlays.
However, the economy will be getting plenty of oomph this quarter and next from sources other than consumers, including hurricane rebuilding, business investment in equipment, and efforts by companies to rebuild depleted inventories. With other sectors taking up the slack, overall growth will most likely remain strong enough to keep generating jobs and incomes for households.
ONE UNSETTLING ASPECT of the October jobs report was the comment by Labor Dept. officials noting that the meager payroll gains were broadly based across the U.S., suggesting that direct hurricane effects were not to blame for the weakness. Labor also revised August payrolls, tallied before the hurricanes, down sharply.
Nevertheless, the October job data are at odds with other key labor market indicators. In particular, claims for unemployment insurance show no evidence of any new weakening in the job markets. New filings have subsided notably since the hurricanes, and excluding claimant activity in the hurricane-affected areas, claims are running below their pre-hurricane levels. In coming weeks, if claims stay low, then payroll gains should rebound in November and December.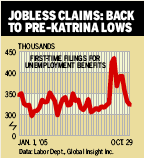 Another sign that the October payroll weakness will be temporary is that much of the softness was in service industries that were most likely to feel some of the indirect effects of the storms and the related surge in gas prices. For example, payrolls of department stores, auto dealers, hotels, and restaurants dropped by 45,000 workers. Those industries make up only about 11% of total employment.
Contrary to the results of the Labor Dept.'s survey of business payrolls, its separate survey of households showed a strong 214,000 rise in new jobs last month, and a downward tick in the unemployment rate, from 5.1% to 5%. Plus, the household survey did, in fact, show some possible direct hurricane impacts. The number of workers saying they were not at work in October due to bad weather stood at 135,000. That's down from September, but it was still the most in any October in the data's 29-year history.
ONE OF THE MOST encouraging signs that businesses will stay in a hiring mood in coming months is the ongoing strength in capital-goods industries. In the past, trends in business outlays for new equipment and job growth have been tightly correlated.
Capital-goods orders during the third quarter rose above their second-quarter average, and the backlog of unfilled orders through September continues to swell. Also, hours worked in October in the machinery and electronics sectors rose strongly, suggesting big gains in October equipment output. And that's not to mention the return of aircraft production after the Boeing Co. (BA ) strike.
Companies are also starting to beef up their inventories. Businesses have run very cautious inventory policies this year, reflecting energy-related uncertainties over demand. So cautious, in fact, that over the past two quarters businesses have actually liquidated stockpiles. That hasn't happened since the 2001 recession, and the pattern is highly unusual in an economy in which overall demand has grown 4.2% during the past year.
As a result, the ratio of inventories to sales in manufacturing, wholesale, and retail industries has fallen well below its long-term trend, suggesting that inventory levels are too low. Companies surveyed in October by the Institute for Supply Management confirm that. Efforts to rebuild stockpiles, especially as the holiday and post-holiday shopping seasons approach, will be another spur to output and employment in coming months.
CLEARLY, HIGHER ENERGY PRICES have been a drag on consumer spending, but the biggest downdraft that will affect fourth-quarter spending is the drop-off in car buying, reflecting the sag in sales following the highly successful "employee discount" program. That promotion had boosted July sales to a 20.7 million annual rate, the third-highest monthly total on record. After the program ended, October sales skidded to only a 14.7 million annual rate.
That decline, by itself, has put fourth-quarter consumer spending into a deep hole. Fourth-quarter outlays are starting out far below the third-quarter average, a gap that even moderate monthly gains in November and December may not be able to make up. From July to October, real consumer spending appears to have fallen at the fastest annual rate since the 1990-91 recession. That means real outlays for the quarter will be unlikely to show any growth at all from the third quarter.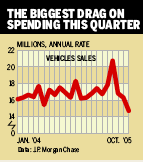 However, the monthly pattern of sales through the quarter should look encouraging for spending in the first quarter of 2006. Not only did October chain-store sales post a solid 4.4% increase from a year ago, says the International Council of Shopping Centers, but Visa U.S.A. reports that spending by consumers and businesses in the first week in November using Visa-branded payment cards rose 14.7% from a year ago.
Other pluses in the consumer outlook: The job report showed that hourly pay picked up last month, lifting the annual rate of growth over the past half-year to 3.4%, the best such showing in two years. And those paychecks will stretch further, given the 23% drop in gas prices since their peak in early September. That decline has restored half of the purchasing power robbed by the run-up in gas prices from early June to early September. Also, Detroit has slapped on a new round of sales promotions, and homeowners are still taking cash out of their home values. Add it all up, and the holiday shopping season may not be the bust that many had feared.
By James C. Cooper & Kathleen Madigan
Before it's here, it's on the Bloomberg Terminal.
LEARN MORE