Housing: There's Still Plenty of Cash Under That Roof
The era of using one's home as a piggy bank may not be finished yet. And that improves the economic outlook this winter.
According to the latest data from mortgage broker Freddie Mac (FRE ), borrowers took $60.4 billion in cash out of their homes when they refinanced in the third quarter. That's on par with the $60.7 billion cashed out in the second quarter and well above expectations.
Homeowners are shifting away from using home-equity loans and instead are refinancing to tap into their homes' wealth. The reason is simple: Because the Federal Reserve has been hiking short-term interest rates, the prime rate, the basis for most home-equity loans, rose to 6.75% last quarter, while a 30-year fixed mortgage rate averaged 5.76%, says Freddie Mac. No wonder home-equity loans were fairly flat this summer while refi activity soared in June and July.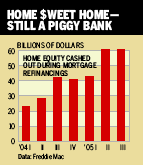 The importance of cash-outs to the economy lies in the fact that the money has fueled a sizable share of demand so far in this upturn. Past Fed studies show that about one-quarter to one-third of cash-outs is spent on current consumption. That explains why consumer spending last quarter jumped by $163 billion, even though aftertax income was up only $61.6 billion. The spending financed by cash-outs contributed 0.7 to 0.9 percentage points of the 3.8% annual rate of economic growth last quarter. By comparison, even with the housing boom still going on, residential construction added only 0.28 percentage points.
Freddie Mac projects that cash-outs for all of 2005 will total $204 billion this year, and slow to $114.5 billion in 2006. That's up from earlier estimates of $162 billion for 2005 and $69 billion in 2006.
To be sure, the negative turn in the bond market in recent weeks has pushed up mortgage rates quickly. The average rate on a 30-year fixed loan hit 6.31% in early November, from 5.71% two months earlier. Not surprisingly, refi activity has been cooling off since September. But the latest mortgage data suggest that consumers are sitting on a lot of cash. That means higher heating oil bills may not crimp consumer spending in the first and fourth quarters by as much as many analysts expect.
By James C. Cooper & Kathleen Madigan
Before it's here, it's on the Bloomberg Terminal.
LEARN MORE