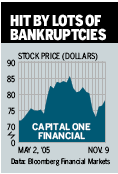 Capital One FinanciaL (COF ), the No. 1 independent credit-card issuer, may be the next buyout in consumer lending. MBNA (KRB ) was tops -- but was bought in July by Bank of America (BAC ). With the merger, MBNA ended its banking ties with Wachovia (WB ), which has decided to get back into the lucrative credit-card trade. That's fueling new Street whispers that Wachovia may go after CapOne. Craig Maurer, managing director at Fulcrum Global Partners, says that when MBNA cut its link with Wachovia, speculation swirled that CapOne could be a target, with Wachovia as the logical buyer. Rather than building from scratch, it's likely, says Maurer, that Wachovia will buy CapOne, which has 48 million customers and $81 billion in managed loans outstanding at the end of 2004. (Wachovia has a small credit-card portfolio, which is still managed by MBNA. But many expect the relationship to end.) A minimum bid that CapOne CEO Richard Fairbank might take to the board, says Maurer, is 13 times 2006 earnings -- equal to what MBNA got. That's $103 a share for CapOne. Its stock slumped in early October -- from 80 to 72 -- in part because of a rash of bankruptcy filings to beat the new bankruptcy law. It's rebounded to 78. Mark Hebeka of Standard & Poor's (MHP ), who rates CapOne a strong buy, says the stock doesn't yet reflect the company as a "viable acquisition candidate." He expects it to earn $7 a share in 2005 and $7.94 in 2006, vs. 2004's $6.21. Wachovia and CapOne did not return calls.
Note: Unless otherwise noted, neither the sources cited in Inside Wall Street nor their firms hold positions in the stocks under discussion. Similarly, they have no investment banking or other financial relationships with them.
By Gene G. Marcial
Before it's here, it's on the Bloomberg Terminal.
LEARN MORE