U.S.: How Companies Are Keeping The Midas Touch
They've gained pricing power while curbing labor costs
Contrary to expectations at the beginning of 2005, American businesses are having a surprisingly good year where it counts most -- the bottom line. This was supposed to be the year when slower economic growth and rising costs for both energy and labor would begin to erode margins and cut into earnings. But as reports so far in the third-quarter earnings season show, companies are not doing so poorly. Even in a quarter when companies were buffeted by one of the sharpest increases in energy costs in decades, along with output and distribution disruptions from two hurricanes, earnings are coming in strong and above expectations.
Through Oct. 28, with 341 of the Standard & Poor's 500 companies having reported, 68% have announced earnings above what analysts were expecting at the beginning of the quarter, according to Thomson Financial (TOC ). Given those profit reports, plus the latest expectations for the companies that have not yet reported, third-quarter earnings should end up rising 16.1% from the previous year. That's greater than the 15.1% gain expected at the beginning of the quarter and close to the 16.8% showing this time last year.
But it's all oil and gas, you say? Not really. With 59% of energy companies having reported, the energy sector is on a pace to rack up a 65% earnings advance from the year before. But even excluding energy, Thomson says the remaining nine sectors should still show double-digit earnings growth of 10.4%.
HOW ARE COMPANIES keeping their golden touch? Strong demand has helped revenues. Real gross domestic product grew at a surprisingly strong 3.8% annual rate in the third quarter, with overall demand rising at an even peppier 4.4% pace. That gap reflects the second straight quarter in which companies liquidated inventories. The combination of shrinking inventories and solid demand bodes well for production gains in coming months, a point bolstered by the upbeat report on October industrial activity from U.S. purchasing managers.
In previous years, companies achieved wider margins and stellar profit growth almost exclusively through stringent cost cutting and productivity gains. As the latest data on employment costs show, companies continue to keep a tight grip on labor costs. That trend is all the more impressive because demand for labor remains solid and productivity growth, which has slowed this year from 2004's strong advance, is no longer supplying the same offsets to rising costs as it had been.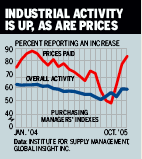 But something else seems to be at work, which is helping companies cope with last quarter's heavy cost pressures and allowing them to maintain high profit margins. That "something else" is stronger pricing power. True, this greater ability to pass along higher energy and other costs has not yet shown up in the price indexes, but economists are starting to think that quirks in the price measures could be disguising inflation's true trend. If anything, the unrelenting strength in earnings argues that better pricing power has taken root, and it will eventually be reflected in the inflation data.
That's why the Federal Reserve's statement after its Nov. 1 policy meeting, at which the central bank lifted its target interest rate by a quarter-point, to 4%, gave no hint that it was ready to end its rate-hiking campaign. Policymakers warned that "the cumulative rise in energy and other costs have the potential to add to inflation pressures," suggesting they will continue to watch the official data to ascertain where inflation is headed.
BUT ARE THE PRICE INDEXES telling the real story? Outside of energy and food, the consumer price index has been exceptionally tame. In the past half year core inflation has run at an annual rate of only 1.3%. But a well-documented quirk in the CPI's gauge of the cost of homeownership may be holding down the core rate. The government estimates the cost of homeownership based on the equivalent rental value of a home. To get a clean measure of rent only, it subtracts utility costs from some rents. When utility costs accelerate sharply, as now, that subtraction greatly reduces rental values and, thus, homeownership costs, which make up a substantial 30% of core CPI inflation.
The same effect appears at play in the costs of lodging away from home, "but on a much more dramatic scale," notes chief economist Ian C. Shepherdson at High Frequency Economics. The change in lodging costs, which account for another 3.9% of core inflation, went from 8% per year in March to -2% in September. Shepherdson's analysis suggests the shift is fully accounted for by the steep runup in utility costs, a point bolstered by the fact that Smith Travel Research says its measure of national room rates is up 5.3% from the year before, with revenue per room up 9.1%.
Other price measures and anecdotal reports also suggest companies may be lifting prices by more than what's indicated by official indexes. The index of prices paid in the October purchasing managers report from the Institute for Supply Management continued its sharp rise to a level close to historically high readings. Plus, an increasingly large percentage of purchasers say that delivery times are slowing and that inventory levels are low. These conditions suggest constraints on output and distribution that typically give companies an edge in setting prices.
ANY GAIN IN PRICING POWER this year was expected to offset an acceleration in the growth of labor costs, the biggest expense for most companies. But it hasn't quite worked out that way. Businesses are holding the line on compensation gains, helping to limit the increase in unit labor costs even while productivity slows down.
According to the Labor Dept., hourly employment costs for private businesses rose 0.8% in the third quarter from the second and 2.9% from previous-year levels. That was the smallest annual gain in eight years.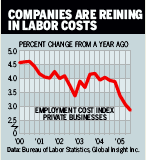 What is interesting is that, even as the labor markets tighten and companies report shortages of some skilled workers, hourly wages, salaries, and benefits are growing more slowly than they were when this economic upturn began four years ago. Over the past year, wages and salaries are up 2.2%, the smallest gain since Labor began tracking employment costs in 1980. And benefits have risen 4.8%, compared with a 7% advance the year before. Much of that slowdown was centered in health-care costs.
As was made clear in General Motors Corp.'s (GM ) decision to cut health-care costs for retirees, companies are looking down every avenue to find ways to control labor costs. One strategy will be further investment in productivity-enhancing equipment, which will make workers more efficient.
In 2006, look for greater business spending to lead overall GDP growth even as the slowdown in wage gains and borrowing temper real consumer spending and as higher interest rates cool off housing. Increased equipment spending may also yield another economic benefit. Its lift to productivity could mean another positive surprise from profits next year.
By James C. Cooper & Kathleen Madigan
Before it's here, it's on the Bloomberg Terminal.
LEARN MORE