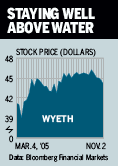 Drugmaker Wyeth (WYE ) is "the most attractive in the beleaguered pharma sector." So says Jeffrey Kleintop of PNC Advisors, which owns shares. One reason: It's alluring buyout bait. Wyeth is No. 3 in biological-drug capacity, an asset he says is attractive to Big Pharma. Pfizer (PFE ), GlaxoSmithKline (GSK ), and Novartis (NVS ) have expressed interest in expanding their biotech capabilities, says Kleintop, and they see Wyeth as a way to do that. He puts the value of Wyeth, now selling at 44, at 55. Wyeth, argues Kleintop, is less vulnerable to generics than the bigger drugmakers, many of whose patents are due to expire soon. The patent of Wyeth's big-seller, Effexor, an antidepressant, will expire in 2008, but Wyeth has in its pipeline an alternative to Effexor, says Kleintop, who sees Wyeth earning $2.94 a share in 2005 and $3.18 in 2006, up from $2.65 in 2004. Andrew Foreman of Friedman, Billings, Ramsey Group (FBR ), rates Wyeth a strong buy. Wyeth says "it is well-positioned to succeed as a stand-alone company." Novartis declined comment. Pfizer and Glaxo did not return calls.
Note: Unless otherwise noted, neither the sources cited in Inside Wall Street nor their firms hold positions in the stocks under discussion. Similarly, they have no investment banking or other financial relationships with them.
Corrections and Clarifications "Rivals are eyeing Wyeth" (Inside Wall Street, Nov. 14) should have said that David Moskowitz of Friedman, Billings, Ramsey rates Wyeth "outperform," not Andrew Forman, as incorrectly mentioned.
By Gene G. Marcial
Before it's here, it's on the Bloomberg Terminal.
LEARN MORE