Euro Zone Inflation Fears May Sap the Dollar
The pass-through of higher energy costs into nonenergy prices is a global inflation concern. But there's a twist. How aggressively other central banks respond to those worries could have significant implications for the dollar in 2006.
That's especially true for the greenback's value vis-à-vis the euro. The dollar could weaken for two fundamental reasons: One, the European Central Bank may well be raising interest rates just as the U.S. is ending its rate hikes. That would increase the relative attractiveness of euro-denominated securities. And two, growth in the euro zone economy may be picking up at a time when U.S. growth is slowing a notch, another relative plus for euro assets.
ECB officials have been sounding more hawkish lately about inflation's potential threat, causing analysts to believe the central bank may soon begin raising rates for the first time in five years. Upbeat business surveys, especially from the lagging German and Italian economies, suggest growth in the second half is rebounding. The pace of the closely watched money supply has accelerated. And inflation, at 2.6% in September, continues to exceed the ECB's 2% target.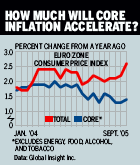 Core inflation, which excludes fuels and other items, stands at a tame 1.4%. But a study by UBS economists in London suggests that the ECB has good reason to worry that higher energy prices will fuel inflation more broadly. They compared the tendency to pass through higher energy costs into the prices of other products in both the U.S. and the euro zone. Their results show that a rise of one percentage point in overall inflation in the U.S. leads to only a 0.1- to 0.2-point rise in core inflation, down sharply since the 1970s. In Germany, however, the same one-point climb overall is likely to yield a 0.8-point rise in core inflation, a result no different from the average experience of the past. The higher sensitivity most likely reflects Germany's less competitive and less flexible labor markets.
A plus for the U.S.: If higher euro zone interest rates lift the euro, a lower dollar and stronger growth abroad will boost U.S. exports and the profits of U.S. multinationals.
By James C. Cooper & Kathleen Madigan
Before it's here, it's on the Bloomberg Terminal.
LEARN MORE