Canada: The Forecast: Low Visibility On Rates
The Bank of Canada will have its hands full navigating monetary policy in the coming year. The economy is running fast enough to lift inflationary pressures. But the BOC is concerned about a slowdown in global growth later down the road.
In the October update of the Monetary Policy Report, the BOC cut its 2006 economic growth forecast to 2.9%, from 3.3%, but said price pressures have risen. Economic growth in the first half of the year was stronger than anticipated and now has the economy "operating at full production capacity." Already-high capacity utilization rates in energy and mining are rising, and more companies are reporting labor shortages. As a result, even slower growth can still spark inflation.
Labor productivity gains far below the BOC's long-run expectation of 1.75% per year add to potential price pressures. After stagnating in 2004, productivity rose 0.7% from a year ago in the first half of 2005. The central bank acknowledges the sluggish pace but expects a recovery.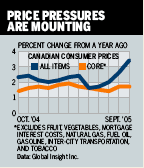 Increasing capital investment should help make workers more efficient, but any pickup in productivity will be gradual. Goods and services productivity growth, which includes the hot construction and energy sectors, lags far behind ailing manufacturers.
The data validate a more hawkish stance. September consumer prices rose 3.4% from a year ago. Less food, energy, and other volatile items, prices were up 1.7%. Core inflation is still below the central bank's 2% target, but the BOC expects it to rise. August retail sales fell 0.3%, but sales of home goods were solid. Consumers in Western Canada benefiting from the commodities boom are spending in droves. Commercial construction is also taking off just as the housing market may be peaking.
The central bank knows the current overnight rate of 2.75% is too low. At the same time, it is concerned about slower global growth and weaker foreign demand in 2007. That means rate hikes will keep coming in quarter-point increments. But the BOC may have to raise rates well into 2006 in order to stay ahead of inflation -- no matter what is lurking off in the distance.
By James Mehring in New York
Before it's here, it's on the Bloomberg Terminal.
LEARN MORE