U.S.: GM Adds One More Brake On Inflation
But with demand strong, many businesses will have the power to lift prices
General Motors Corp.'s (GM ) decision to slash its retirees' health benefits is largely seen as another step in the restructuring of the U.S. auto industry. But there is a broader implication. GM's plan will also transform inflation expectations over the long run. Global competition, immediate access to information, deregulation, and the productivity imperative all have exerted a structural downward push on inflation over the past decade. GM's latest move shows how companies are increasingly targeting benefits to keep cost pressures in check.
For inflation hawks, this business strategy comes at a beneficial time, since it will help to offset the rising cyclical pressures pushing up core prices, which exclude energy and food. Bear in mind that just as with other economic trends, inflation bends to the will of both structural and cyclical forces. And at this stage of the business cycle, strong demand, rising rates of capacity utilization, and shortages of some skilled labor have the potential to push up prices. That's especially true since stubbornly high energy bills give businesses a compelling reason to mark up their product prices.
The tug of war between structural vs. cyclical inflation forces is long-running, but today's conflict has a new urgency: The economy is quickly using up its available labor and capital. When the economy is operating at full capacity, wage and price pressures are harder to combat despite the favorable structural trends.
That's why the Federal Reserve remains intent on removing all monetary stimulus from the system to assure that inflation remains contained. And given the economy's resilience, as seen in much of the post-Katrina data, the Fed may have to move policy into an outright restrictive mode, with even higher interest rates, if high energy costs are passed through into core inflation.
But to the extent that the business sector remains intent on limiting its labor costs, any cyclical rise in inflation will bump up against the downward pull of structural forces. In effect, GM's action today may give the Fed greater leeway in fighting inflation in the future.
THE NEAR-TERM PRESSURES on inflation continue to build, nevertheless, and that's what the Fed and financial markets are focused on. True, the September consumer price index offered little to worry about. Despite the 1.2% jump from August, boosted by a record 12% surge in energy prices, the core index barely budged, rising a scant 0.1%. No energy pass-through there.
But the month's producer price index was less benign. Costlier energy caused the overall index for finished goods to jump by 1.9%, including a 0.3% rise in the core PPI. Most noteworthy, core prices in the earlier stages of processing showed some signs that higher energy quotes are working their way into the costs of other goods. The core PPI of semifinished intermediate goods posted the largest monthly jump in 17 months, with big increases for plywood, plastic resins, industrial chemicals, and steel mill products. Among crude materials, prices for iron and steel scrap climbed nearly 23%.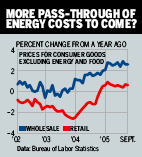 Patterns like that make Fed policymakers uneasy, especially when economic conditions are increasingly conducive to greater pricing power. In the Fed's regional Beige Book report on Oct. 19, a number of Fed districts noted increased upward pressure on wages, and all districts reported cost hikes for energy, building materials, and shipping. Most important, the Fed said "several districts indicated that input cost increases are being passed through to retail prices."
RECENT INFLATION CONCERNS stem mainly from a change in the view of how oil affects the economy. Last year, conventional wisdom said that a doubling of oil prices would hammer demand. Slower economic growth, combined with intense global pressures, would assure enough slack in the labor markets and in industrial capacity to snuff out any nascent pricing pressures.
But it's not working out that way. The post-Katrina economy looks surprisingly strong. Take September retail sales. Excluding the drop in car buying because of the end of discounts and the rise in gasoline sales due to higher prices, the other 70% of retail sales rose by 0.6%.
Demand for capital goods is also hanging tough. Although the Conference Board reported a decline in business confidence last quarter, to a four-year low, the survey showed businesses have not appreciably altered their capital-spending plans. And overseas sales are booming. Exports of goods, adjusted for inflation, rose 2.5% in August, and since March they have grown at the fastest pace of any five-month period since 1997.
Solid demand explains why U.S. industry is faring so well -- and why some sectors are enjoying more pricing power. Industrial output fell 1.3% in September, but the Fed noted that, excluding the hurricanes and the Boeing Co. (BA ) strike, output would have risen 0.9%. Moreover, production capacity is tightening. In September, more than a third of U.S. manufacturers were operating at greater than 82% of their capacity, a level typically associated with increased pricing power.
IF INFLATION PRESSURES look so intense, then why isn't the 10-year bond at 5.5% instead of 4.5%? Because bond traders as well as other inflation-watchers recognize that structural forces will work to keep inflation at bay.
First and foremost is global competition. Foreign producers are keeping prices low to maintain their U.S. market shares. That limits how much American manufacturers can raise prices. Plus, more open foreign economies have allowed U.S. businesses to move production to lower-cost overseas facilities. That gives employers an advantage over workers even as the jobless rate has fallen to 5%.
Businesses have used that edge to hold the line on labor costs. That's especially true for benefits since, as GM knows, companies can be on the hook for perks long after workers have retired. The growth in benefit costs has slowed from a 7.3% yearly pace in the second quarter of 2004 to just 4.9% in 2005's second quarter. When the Labor Dept. releases its third-quarter report on Oct. 28, the data will probably show a further easing.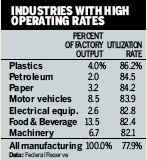 Mostly, companies have focused on health-care costs. They grew 6.3% in the year that ended in the second quarter, vs. 8.1% in the same period in 2004 and 10.3% in 2003. Pensions also are a concern. In particular, airline bankruptcies have pushed pension obligations onto the government.
Businesses have used the higher trend in productivity to hold down unit labor costs. Besides that structural shift, technological innovations allow data to be available immediately. Executives can anticipate delivery delays and manage inventories better. And the Internet gives consumers easy access to pricing information or discount retailers. Finally, deregulation has opened markets. And greater competition leads to lower prices. Just ask the airlines.
Or GM. Critics have said it waited too long to recognize how the economy has changed. But the auto giant has begun to move. While core inflation seems sure to rise in the coming year, GM's actions are part of the structural forces that will limit how high inflation will drift.
By James C. Cooper & Kathleen Madigan
Before it's here, it's on the Bloomberg Terminal.
LEARN MORE