Turkey: Big Blows From High Oil -- And Avian Flu
No one expected Turkey would find a quick or easy path to membership in the European Union. Some EU nations had voiced worries about allowing a poor, predominantly Muslim country into the EU, and it took some last-minute political moves in early October before Turkey could even begin formal membership talks, a process that could last a decade.
To be sure, Turkey has made strides in stabilizing its economy since reforms began in 2001. Second-quarter real gross domestic product was up 4.2% from previous-year levels, and the jobless rate in September stood at 8%, down from 11.5% at the start of the year. Yearly inflation ended the third quarter at 9.1%, from nearly 70% four years ago. With inflation less of a problem, the Bank of Turkey was able to cut its target interest rate by a quarter-point, to a record low 14%, on Oct. 11.
Notwithstanding such progress, Turkey's outlook has changed dramatically since the EU talks began. Because oil prices have not fallen as much as expected, the already huge current account deficit is sure to widen. The gap hit a 45-year high of 5.1% of GDP in 2004 and will approach 6% in 2005. Economy Minister Ali Babacan told the Sabah newspaper that higher oil prices widened the gap by $7 billion in the first seven months of 2005. Standard & Poor's (MHP ) has warned that if energy costs stay at current levels, Turkey's credit ratings could be downgraded, making it more expensive to raise funds overseas and finance the deficit.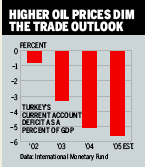 The government had planned on using money from tourism to fund the current account deficit. But the outlook for tourism took a dive after cases of avian flu were found in Turkey's poultry. If the EU issues a travel advisory against Turkey, that would severely cut into tourism revenues, which account for almost 20% of the economy.
For now, foreign direct investment is helping out. JPMorgan Chase & Co. (JPM ) estimates that it will total almost $14 billion in 2005, up from just $1.3 billion in 2004. That should be enough to finance 30% of the gap. The danger is that a ratings downgrade or the spread of the avian virus could hurt Turkey's economy in coming quarters.
By James C. Cooper & Kathleen Madigan
Before it's here, it's on the Bloomberg Terminal.
LEARN MORE