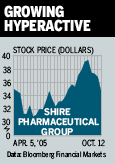 Lately investors have been paying heed to once-ignored attention-deficit hyperactivity disorder, or ADHD. The reason: ADHD is now recognized as a major source of learning disability in kids, so sales of Adderall XR, the leading ADHD drug, are up. Shire Pharmaceuticals (SHPGY ) (SHPGY) sells Adderall, whose market is estimated at $750 million. Shire's stock rose from 30 in mid-May to 39 on Sept. 12. It is now at 35. But Barr Pharmaceuticals (BRL ) has sued Shire to invalidate its patent. Some pros expect an out-of-court settlement before the January, 2006, trial. Derek Taner of AIM Investments, which owns 2% of Shire, says Barr has a history of settling. If it does settle, it would jack up Shire's earnings, he says. Andrew Forman of WR Hambrecht figures a settlement will add 60 cents to his 2006 forecast of $1.90 and push up his 2007 estimate by 75 cents to more than $3. And, he adds, it would give Shire time to switch its patients to an upcoming ADHD drug developed by New River Pharmaceuticals, NRP104, which Shire will market. New River will seek regulatory approval later this year. Shire CEO Matthew Emmens says NRP104 will be a more effective drug with a much bigger market. He and a Barr spokeswoman declined comment on the lawsuit.
Note: Unless otherwise noted, neither the sources cited in Inside Wall Street nor their firms hold positions in the stocks under discussion. Similarly, they have no investment banking or other financial relationships with them.
By Gene G. Marcial
Before it's here, it's on the Bloomberg Terminal.
LEARN MORE